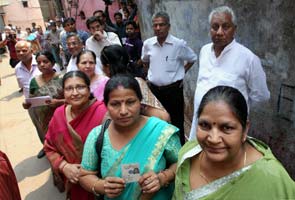 New Delhi:
The national capital voted on Sunday to pick a new team for its trifurcated civic body, with more people coming out to vote this election compared to last time. 55 per cent polling was recorded till 5.30 pm, according to Chief Electoral Officer Rakesh Mehta.
Addressing a press conference in New Delhi, Mr Mehta said that this has been a "very peaceful poll" and it witnessed uniform voting pattern.
Mr Mehta also said that highest polling was recorded in Welcome Colony (89%) while Sadh Nagar in South Delhi recorded the lowest percentage (31%).
The voting hours were extended till past 9 pm due to a long queues of voters.
Ballots were cast for 272 seats with a tough battle between the incumbent Bharatiya Janata Party (BJP) and the Congress.
This is the first time the capital voted for the trifurcated Municipal Corporation of Delhi (MCD).
Over one crore voters were eligible to exercise their franchise across 11,543 booths in the capital to decide the fate of 2,423 candidates.
In the newly trifurcated MCD, the corporations of north and south have 104 wards each, while the east Delhi corporation has 64.
While sanitation and development remained key issues for the civic polls, people in some parts of the capital boycotted polls citing poor development in their areas in the last many years.
Women voters, who formed 44 per cent of total voters in the national capital, turned up in high numbers, the commission noticed.
A total of 30,000 armed police personnel were deployed at the booths to ensure free and fair elections. The BJP, which rules the corporation, had swept the 2007 elections in the then unified MCD with 168 seats.
With the Delhi assembly elections due in end-2013, the results will have significant impact on the morale of the parties.