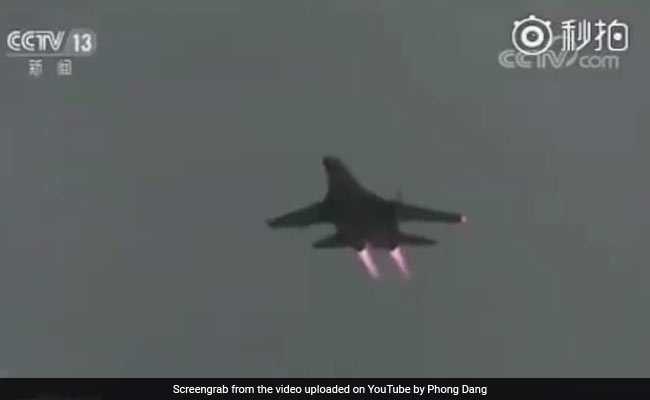 Beijing:
China has showcased its J-11B jet fighters in the disputed South China Sea islands as Beijing seeks to consolidate its hold over the region.
Footage aired by state-run China Central Television (CCTV) on Wednesday for the first time confirmed deployment of the fighter aircraft in a hangar on Yongxing island, a Chinese name for Woody Island, which is part of the Paracel islands - also claimed by Vietnam.
China calls the Paracels as the Xisha islands.
The presence of the bombers showcases China's improving air and sea control in the South China Sea, state-run Global Times quoted a Chinese military expert as saying.
The footage was broadcast in a CCTV report on the People's Liberation Army (PLA) Air Force's drills to improve its nautical combat capability.
Yongxing island is the largest of the Xisha islands in the South China Sea which is also the seat of the Sansha city government established by China's Hainan province.
With a three-kilometer runway, the airport in Yongxing island is an important dual-use airport in the South China Sea region, the CCTV report said.
China claims almost all of the South China Sea but Vietnam, the Philippines, Malaysia, Brunei and Taiwan have counter claims over the waterway.
The US is periodically deploying its naval ships and fighter planes to assert freedom of navigation.
Two Chinese J-10 fighter jets were reported to have intercepted a US Navy surveillance aircraft over the South China Sea in May.
The thermostabilised hangar boosts the jet fighters' durability and resistance to the island's humidity and high temperatures.
More importantly, the special hangar helps to realize regular deployment of fighter jets in the Xisha Islands, TV commentator Song Zhongping told the daily.
"Other islands in China could also use such aircraft hangars and China's overall control of air and sea in the South China Sea would be greatly improved as well," Mr Song said.
China will enhance its capability to safeguard its legal rights in the South China Sea through military and legal enforcement channels, he said.
"Legal enforcement channel" means Chinese fighters intercepting foreign aircraft flying over the South China Sea, he said.