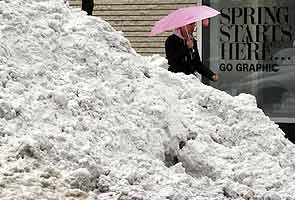 Chicago:
A major early spring storm brought heavy snow, severe thunderstorms and floods as it moved east across the United States on Saturday, closing highways, forcing flight cancellations and causing a pileup involving dozens of vehicles.
The weather system forced the cancellations of more than 100 flights in and out of Denver International Airport on Saturday and blowing and drifting snow closed several roads in Colorado, including Interstate 70 in both directions east of Denver to the Kansas state line.
"Travel on the eastern plains is strongly discouraged," said Mindy Crane, spokeswoman for the Colorado Department of Transportation. "It is snowing half an inch an hour with sustained winds of 25 miles an hour (40 kph) with gusts up to 40 miles an hour (64 kph)."
A chain-reaction crash involving some 50 vehicles and at least four tractor-trailers shut down Interstate 25 about 30 miles north of Denver for several hours on Saturday, the Colorado State Patrol said in a statement. A tanker involved in the accident burst into flames.
Several injured people were taken to the hospital but no fatalities were reported, police said.
Kyle Fredin, a meteorologist with the National Weather Service, said some counties in far eastern Colorado had seen a foot of snow by mid-afternoon.
Snowfall accumulations in the Denver metropolitan area could top 10 inches, with higher amounts in the foothills west of the city, he said.
The snow was expected to move east to Kansas City, St. Louis, Indianapolis and Columbus, Ohio, over the next 24 hours, before moving into the mid-Atlantic states, Kines said.
Rough weather also was forecast in the Gulf Coast region from Florida to eastern Texas throughout Saturday, with large hail, damaging winds and possible tornadoes, Kines said.
In northern Florida, the National Weather Service in Jacksonville had reports of high winds and possible tornado touchdowns, though no twisters have been confirmed, according to meteorologist Phil Peterson.
Peterson said the weather service also had reports of baseball-sized hail west of Lawtey, Florida, early in the afternoon. Lake City received two inches of heavy rain in 30 minutes, he said.
© Thomson Reuters 2013
Get Breaking news, live coverage, and Latest News from India and around the world on NDTV.com. Catch all the Live TV action on NDTV 24x7 and NDTV India. Like us on Facebook or follow us on Twitter and Instagram for latest news and live news updates.