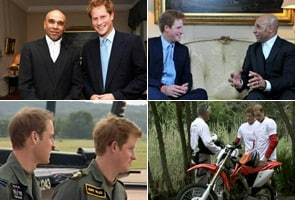 London:
Britain's Prince Harry is said to be chilling out after being introduced to 'Bikram yoga', a technique where participants work out in a room heated to 105 degree Fahrenheit, by his new friend DJ Goldie.
According to the 'Daily Star', Goldie, the ex-James Bond villain, has been boasting about the benefits of the yoga to the 25-year-old Prince after striking up a close friendship with the third-in-line to the British throne while filming for his new talent show 'Goldie's Band: By Royal Appointment'.
"Goldie and Prince Harry got on like a house on fire. Goldie kept banging on about the benefits of Bikram and Harry was really interested," a source close to the star was quoted by the British tabloid as saying.
Bikram yoga, also known as hot yoga, is a system of yoga which multi-millionaire Indian yoga guru Bikram Choudhury synthesised from traditional yoga techniques and popularized beginning in the early 1970s. It incorporates a series of 26 postures and two breathing exercises. Added 44-year-old Goldie: "Bikram yoga is the most amazing thing I've ever done in my life. I'm addicted, I want to do it every day."