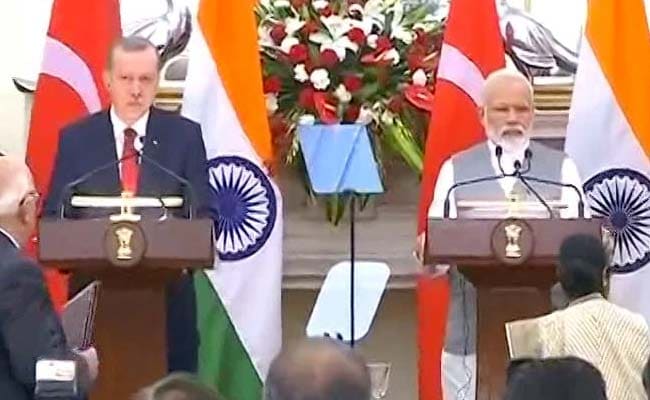 New Delhi:
Prime Minister Narendra Modi and Turkish President Recep Tayyip Erdogan delivered a joint-press statement after holding bilateral talks. Earlier today, Mr Erdogan was accorded a ceremonial welcome at Rashtrapati Bhavan, where he met President Pranab Mukherjee.
In his first visit to India since 2008, Mr Erdogan and PM Modi are expected to discuss economic ties, trade as well as the ongoing developments in Syria. Mr Modi will seek Turkey's support for India's membership in the Nuclear Suppliers Group (NSG). Turkey had earlier supported India's membership in the Missile Technology Control Regime (MTCR). Meanwhile, Mr Erdogan has asked India to take action against the Fethullah Gulen Terrorist Organisation (FETO), which Turkey claims has "infiltrated" India.
Mr Erdogan's visit also comes right after his Cypriot counterpart Nicos Anastasiades' official trip to India. The northern part of Cyprus has been under Turkish occupation since 1974.
Here are the highlights of the joint statement by PM Narendra Modi and Turkish President Recep Tayyip Erdogan:
The people of India and Turkey have ties of culture and history. It has connected our countries for hundreds of years.
In our discussions today, we spoke about cultural and economic ties between our countries.
Our bilateral trade of around $6 billion does not do justice to our ties. Both sides can do much more. I am sure that Turkish business will explore more opportunities in India.
Encourage stronger partnership of Turkish companies with our flagship programmes.
Nations of the world need to work as one to disrupt terror networks and their financiers. We must put a stop to cross-border movement of terrorists.
They also need to act against those who create, support, shelter and spread terrorism.
President Erdogan and I decided to work together to strengthen cooperation - bilaterally and multilaterally - to effectively counter terrorism.