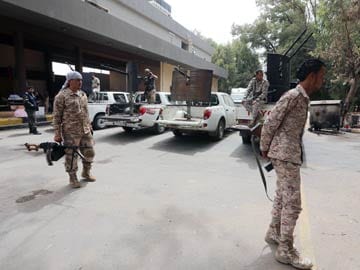 Tripoli:
Libya will hold elections next month to replace its disputed interim parliament, as authorities strive to contain a power struggle with armed ex-rebels and prevent a descent into civil war.
Successive governments have complained that the General National Council's (GNC) claim to both executive power and legislative authority has tied their hands in bringing to heel former rebel militias blamed for growing unrest in the North African country since the 2011 uprising that killed dictator Moamer Kadhafi.
The electoral commission said polls for the new parliament would be held on June 25, in an announcement a day after the government urged the GNC to go into recess.
The government said this could help spare Libya from descending into civil war after renegade general Khalifa Haftar, whom authorities branded an "outlaw", launched an assault Friday on Islamists in Benghazi.
The Islamist-dominated interim parliament sparked widespread public outrage earlier this year when it extended its own mandate until December.
Gunmen from the ex-rebel Zintan brigade, who say they back Haftar, stormed parliament on Sunday and set fire to an annex building, forcing the GNC to hold a Tuesday meeting in a Tripoli hotel.
The meeting came as rival armed groups took position for or against Haftar, who has won widening support for his campaign to rid Libya of jihadists.
His supporters now include an elite special forces unit of the regular army in Benghazi, who have suffered mounting losses to suspected jihadist attacks in the eastern city where Islamists are well entrenched.
Police brigades, officers at Tobruk air base and the powerful Al-Baraassa tribe from the east have also declared support for Haftar.
But the United States distanced itself from the renegade general.
"We have not had contact with him (Haftar) recently. We do not condone or support the actions on the ground, and nor have we assisted with these actions," State Department spokeswoman Jen Psaki told reporters in Washington.
"So we are continuing to call on all parties to refrain from violence and to seek resolution through peaceful means," added Psaki, declining to say whether Washington viewed Haftar's actions as a coup attempt.
Islamist militias in both Benghazi and Tripoli have vowed to resist any move against them by Haftar's forces, including Benghazi-based Ansar al-Sharia which was the focus of Friday's assault.
The group charged that Haftar, who spent more than two decades in US exile, was leading "a war against... Islam orchestrated by the United States and its Arab allies".
Haftar's forces withdrew from Benghazi after Friday's clashes which killed at least 79 people, but he said he would re-enter the city to cleanse it of "terrorists".
He has won the support of special forces there who have suffered mounting losses.
"A confrontation is now inevitable to defend our city and our land. We will act with force against anyone who enters the city or attacks it," Ansar al-Sharia said.
The group, which denies accusations it was behind a September 2012 attack on the US consulate in Benghazi that killed ambassador Chris Stevens and three other Americans, was put on the US terror blacklist in January.
- Showdown in parliament -
With tensions escalating on the ground, a showdown was being played out at the 194-seat GNC which has accused Haftar of attempting a coup.
The Muslim Brotherhood, the largest bloc in the GNC, and radical Islamists have rejected government calls for MPs to go into recess.
The GNC convened on Tuesday but failed to reach the necessary quorum of 120 to debate the budget, MP Suad Ganur told AFP.
She added that a vote of confidence in Prime Minister Ahmed Miitig, whose election earlier this month was dismissed by many MPs as "illegal", was also postponed.
Miitig said he needed more time to submit a cabinet line-up, Ganur said, adding that a new meeting would be held on Sunday.
Witnesses said that a rocket exploded near the hotel as the MPs met, but without causing casualties or damage.
The attack underscores the tensions gripping Libya, where ex-rebels once hailed as the heroes of the 2011 revolt are heavily armed and have regional, tribal and ideological rather than national interests.
Both sides in the stand-off have militia allies positioned around Tripoli, raising fears of a rapid degeneration into armed conflict.
The anarchy has prompted Saudi Arabia and Algeria to close their embassies in Libya. Algiers also repatriated some 50 employees of its state-run energy giant Sonatrach.
The tension has also impacted world oil prices which were mixed Tuesday.