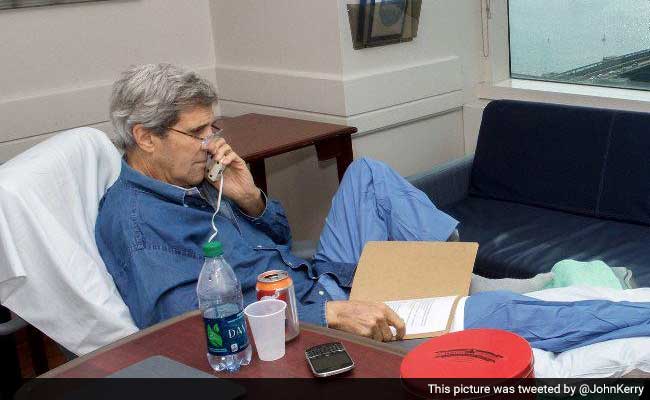 Washington:
US Secretary of State John Kerry tweeted a picture of himself in his Boston hospital room Tuesday, saying he was doing well and working, 10 days after breaking his leg in a cycling accident in the French Alps.
"Feeling good a week after surgery. Good chats today w/ @AmbassadorRice & @StateDept senior team. The work continues!" the top US diplomat wrote on his Twitter account.
In the photograph, Kerry is seated in a chair, resting his right leg and speaking on the phone. His room has a view on the River Charles that flows through Boston.
The State Department has remained relatively tight-lipped about Kerry's progress after he underwent surgery on his broken right femur in Boston, Massachusetts on June 2.
Officials had previously released no photos of Kerry, 71, since he crashed his bicycle on May 31.
The avid cyclist was in the region for talks in Switzerland with his Iranian counterpart Mohammad Javad Zarif on Tehran's nuclear program.
"He remains in the hospital and is doing physical therapy and is in consultation with his doctors," State Department spokesman Jeffrey Rathke said.
When pressed on the lack of public appearances or photographs of Kerry recuperating, Rathke said earlier: "He underwent surgery - major bone broken... That, of course, takes some time for recovery. And we've described that from the very start."
He added that Kerry was "in good spirits and is making progress," and had spoken by phone with Brazilian Foreign Minister Mauro Vieira about climate change and spoken with advisors about Russia and Iran.
Rathke did not specify when Kerry could be expected back at work in Washington but said the State Department was hopeful he would be able to go to Europe at the end of the month for final negotiations of the historic Iran talks.
"With respect to the... June 30th end of the Iran nuclear talks, we remain committed to that. We believe it's achievable," the spokesman said.