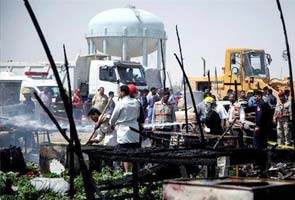 Baghdad:
More than 2,500 people were killed in Iraq in the past three months, the UN said on Monday as new attacks left 41 dead, highlighting concerns the country is slipping back into all-out war.
The latest violence comes as the country grapples with months of protests among the Sunni Arab minority, tensions along a swathe of territory in northern Iraq, and a protracted political deadlock that has blocked key legislation.
Analysts have warned that the stalemate and tensions could continue until a general election due next year.
On Monday, a series of attacks in restive areas north of Baghdad left 41 people dead as new figures released by the UN mission in Iraq showed a dramatic surge in violence in recent months.
Most of the victims died when a suicide bomber set off his explosives-rigged vest in the middle of a packed funeral for an Iraqi soldier being held in a husseiniyah, or Shiite religious hall.
The 10:00 pm (1900 GMT) blast in the town of Muqdadiyah killed 23 people and wounded 27, a police colonel and a medic said.
In nearby Baquba, capital of Diyala province, another blast at a cafe in a Shiite neighbourhood killed 10 people and wounded 22.
Earlier in the day, eight former Sunni tribal militiamen were kidnapped from their homes north of Baghdad in pre-dawn raids by gunmen wearing military uniforms before being shot dead, assassination-style.
The men were all former fighters in the Sahwa, a collection of Sunni tribal militias that turned against Al-Qaeda and sided with the US military from late 2006 onwards, helping turn the tide of Iraq's bloody insurgency.
No group immediately claimed responsibility for Monday's violence, but Sunni militants linked to Al-Qaeda frequently target the Sahwa, whom they regard as traitors, and Shiite Muslims, whom they see as apostates.
The UN released new figures on Monday which showed that 761 people were killed -- most of them civilians -- across the country in June, bringing the overall death toll for the past three months to 2,518.
Figures compiled by AFP, meanwhile, showed the death toll from April through June was more than twice that of the first three months of the year.
Attacks last month targeted a wide cross-section of Iraqi society -- government targets and security forces were hit by car bombs, mosques were struck by suicide attackers, anti-Qaeda militiamen were shot dead, and Iraqis watching and playing football were killed by blasts.
"They (militants) are intent on causing large numbers of casualties, to embarrass the government, to raise frustrations and possibly stoke a return to militias again," said John Drake, a Britain-based analyst for risk consultancy AKE Group.
"There's something about this period that's very familiar. It feels like we've gone back several years.
"I remember saying the same things in 2007," he added, referring to the brutal sectarian war that blighted Iraq in 2006 and 2007, leaving tens of thousands dead.
The UN and AFP figures were markedly higher than those compiled by government ministries, which pegged last month's toll at 240 dead and 379 wounded.
Casualty figures compiled by the Iraqi government have typically been lower than those tallied by the United Nations, AFP and Britain-based NGO Iraq Body Count.
Iraq Body Count figures for June were not immediately available.
The surge in violence comes amid a protracted political standoff within Iraq's national unity government, with little in the way of landmark legislation passed since a 2010 parliamentary election.
And while political leaders have pledged to resolve the dispute, with Prime Minister Nuri al-Maliki meeting his two main rivals last month, no tangible measures have been agreed.
Meanwhile, tensions have persisted in a swathe of territory in northern Iraq that Kurdish leaders want to incorporate into their autonomous three-province region over Baghdad's objections.
And months of protests among the Sunni Arab community have continued unabated.
Analysts and diplomats worry that the multi-faceted standoffs are unlikely to see any long-term resolution before a general election due next year.