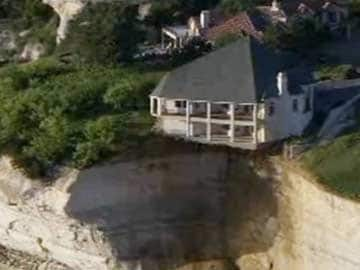 Whitney, Texas:
The owner of a vacant luxury house teetering on a crumbling 75-foot cliff over a Central Texas lake has decided to burn the house and clear the lot of the debris.
Tom Hemrick, Hill County's emergency management coordinator, said Thursday the house would be burned Friday morning. Then a long-reach excavator will be used to clear the debris before the foundation slab is removed.
The 4,000-square-foot house is on a cliff overlooking Lake Whitney on the Brazos River at White Bluff Resort, 60 miles south of Fort Worth. It has been crumbling into the lake as the cliff on which it's perched has given way. The house was condemned and evacuated about two weeks ago.
Tax records show it was built in 2007 and is worth more than $700,000.