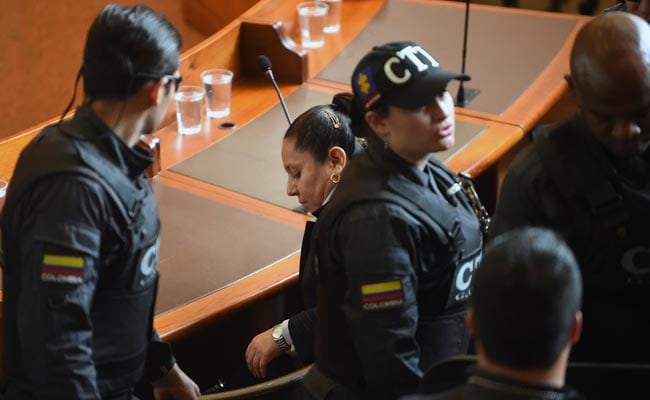 Bogota:
Colombia's Supreme Court has convicted the country's former intelligence boss and a presidential chief of staff of spying on judges, journalists and politicians during the presidency of Alvaro Uribe.

The high court handed down its unanimous guilty verdicts on Friday against the former intelligence chief, Maria del Pilar Hurtado, and Uribe's former chief of staff, Bernardo Moreno.
Hurtado, as head of the now defunct Administrative Department of Security (DAS), was found to have ordered illegal wiretaps of current Bogota Mayor Gustavo Petro, other leftist politicians and Supreme Court judges.

Hurtado was guilty of "abuse of authority" through "wrongful and arbitrary acts" as well as an "unlawful violation of communications," according to the decision.

Hurtado fled the country in 2010 and was granted asylum in Panama, but surrendered to Colombian authorities at the end of January after Interpol issued an order for her arrest.

Moreno, who is free on bail after spending 19 months in jail during the investigation, was convicted of soliciting illegally obtained information from DAS officials.

The court said the former officials, who face up to 18 years in prison, would be sentenced on Thursday.

Uribe, who is scheduled to appear in court Tuesday over another electronic espionage case, reacted to the verdicts on his Twitter account, saying he was "pained" by the development.


Some of the victims in the case have publicly accused Uribe of ordering the recordings, an accusation he denies.
The former president, who served from 2002 to 2010, has said Hurtado was "persecuted" and insists the wiretaps she ordered were legitimate "national security operations."
Hurtado did not testify in court.
"We hope Hurtado's conviction helps her tell the truth. Who drove her to commit the offenses?" said a lawyer for former senator Piedad Cordoba, whose telephone conversations were monitored tapped.
The scandal-plagued DAS was disbanded by Uribe's successor, President Juan Manuel Santos.