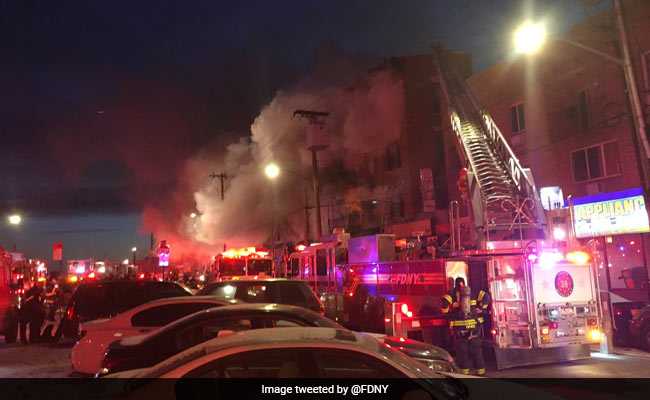 New York:
A fire destroyed a building and injured 16 people in the Bronx on Tuesday, just days after the worst fire in New York City in 25 years
killed 12 people.
"Our units arrived and were immediately faced with heavy fire. Numerous people were brought out of the building by the firefighters on scene. We have 16 people; seven adults and nine children, all with non life-threatening injuries," said New York City fire chief Daniel Nigro.
"They've all been transported, and they will all be ok, thankfully," he said.
Barely four minutes after the emergency call, around 200 firefighters arrived in three dozen vehicles at 5:30 am (1030 GMT)
at a three-floor, red-brick building
close to the Bronx Zoo.
Five hours later, the fire crews were still fighting to control the blaze on the Bronx's Commonwealth Avenue. Local media said the fire broke out in a furniture factory on the ground floor of the building.
One resident told NBC news he fled the building, barefoot and barechested, with his three children into freezing temperatures that dipped as low as minus 10 degrees Celsius (10 degrees Fahrenheit).
Last Thursday, another fire at an apartment block close to the Bronx Zoo was started by a
three-year-old boy who was playing with stove burners.
That inferno killed 12 people, four of them children.
Mayor Bill de Blasio called it the "worst fire tragedy we have seen in this city in at least a quarter century."
(Except for the headline, this story has not been edited by NDTV staff and is published from a syndicated feed.)