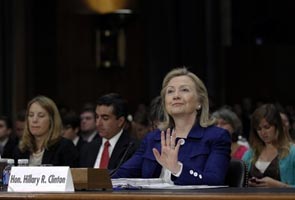 Washington:
Hillary Clinton, the former Secretary of State,could run for the 2016 presidential elections, her husband Bill Clinton hashinted.
Bill Clinton, one of the most popular American presidents inrecent past, added fuel to the speculation when at an event on Saturday nighthe said that the country would have some good choices in the 2016 presidentialelections.

This drew wide applause from the audience in St Louis, whopresumed that he was referring to Hillary.

"I think America will have some very good choices for president,"he said in response to a question at the Clinton Global Initiative (CGI), whichwas first reported by the CNN.

Clinton said he favoured a two-term limit for a president,but said he wouldn't oppose allowing future presidents to run for a third termnot immediately after their second.

"I'm quite sure there are going to be lots of talentedpeople who are dying to become president of the United States," Clintonsaid.

Hillary, who made two public appearances this week afterrelinquishing the post of Secretary of State in February, is widely beingspeculated to run for 2016 presidential polls.
Though she has neither denied nor responded positively tosuch rumours, her supporters have already formed a super PAC in anticipation ofher presidential campaign.
Republican Senator Lindsay Graham said Hillary could be aformidable candidate but much depends on the success of the ObamaAdministration.
"I think after eight years of Barack Obama, if thingsdon't change the next Democrat running for president will in trouble. She willbe a formidable candidate," he told the NBC news channel.
"I think her time as Secretary of State is mixed.
Benghazi is yet to be told completely. But anybody whounderestimates her on the Republican side would do so at a peril. But, yes, shecan be beat. Anybody can be beat in this country," Graham said in responseto a question.