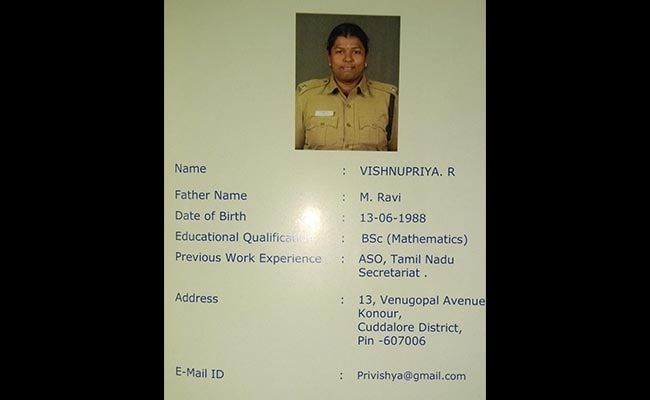 Namakkal, Tamil Nadu:
A 27-year-old police officer, Vishnupriya, who was investigating an alleged honour killing case, was found dead in her quarters in Tamil Nadu's Namakkal district.
According to the police, the officer left for her residence around 3 pm for lunch after attending to her duties. When she didn't return to the office as usual, a constable went upstairs to look for her and found the house locked from inside with no response to repeated knocks.
When the constable peeped inside a window of a room, he found the officer hanging from the ceiling fan, following which he alerted other colleagues who retrieved the body after breaking open the door.
The Deputy Inspector General of Police of Salem range, Vidya Kulkarini said, "We've recovered a suicide note. We are investigating. We can't reveal details now".
Sources however say that in her suicide note the woman officer calls herself "unfit" for the job and has asked not to link her suicide to the Gokulraj death probe.
The officer was investigating a case involving the death of a young Dalit man Gokularaj, who was found dead on a railway track in June this year. CCTV images at a temple showed him being dragged by a group of people, while he was talking to an upper caste young woman.
The same day Gokulraj's body was found on a railway track. Though the police have arrested several people belonging to a caste group suspected to be behind the attack, their leader, Yuvaraj, is still at large.
In a WhatsApp video recording made like a suicide note retrieved from his mobile phone, Gokulraj suggested a failed love affair to be the reason for his death. However many had alleged that the group which took him away, killed him, and this recording was done under pressure as a ploy to mislead investigators.
Ms Vishnupriya was unmarried and hailed from a family of police in the Cuddalore district. Her father and sister too are police officers.