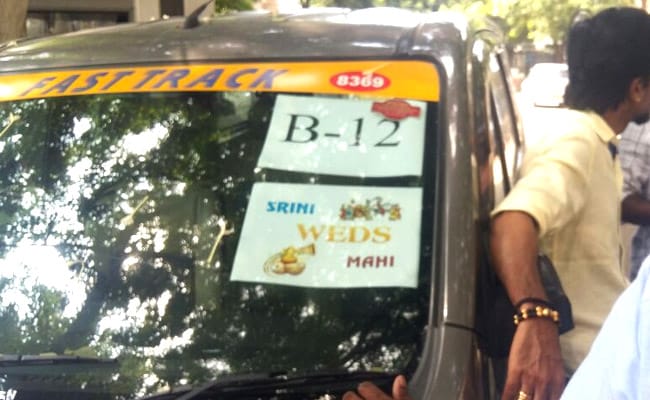 Chennai:
It's been 24 hours since over
1,000 officials swooped down almost simultaneously on over 150 properties
in Tamil Nadu linked to big fish. Secrecy played a huge role in the operation that started around 5.30 am on Thursday. What provided the perfect cover for hundreds of cars hired by taxmen for the raids was an innocuous wedding sticker.
Cars moving across Chennai with "Srini Weds Mahi" flyers stuck onto their windscreens, it emerged hours into the raids, were used by Income Tax officials on the trail of the powerful family of jailed AIADMK leader VK Sasikala - former Chief Minister J Jayalalithaa's close aide who took control of the ruling party after her death in December.
There were 187 homes, offices and farmhouses to be searched, say officials, and not nearly enough official vehicles.
Their list included relatives of Sasikala's nephew Vivek Jayaraman - the chief of Jaya TV - her niece Krishnapriya, her brother Dhivakaran, husband Jayaraman and nephew TTV Dhinakaran, the sidelined AIADMK leader currently fighting for control of the party. Individuals and companies linked to Sasikala's family are accused of massing enormous wealth in the past year.
The hiring of such a large number of cars for the raids was bound to be noticed unless it was for a wedding. And that is how "Srini" and "Mahi" saved the day with their "wedding".
The rented cars were numbered and sent to various points for the raids. Eventually, the wedding stickers came to be the official pass for raid cars to cross police cordons and gates.
Tax officials continued their searches today.
Yesterday, a "sizeable volume of cash and documents" were seized, said an official.
The searches are linked to allegations of unexplained cash and investments after demonetization by shell companies allegedly connected to Sasikala and Dhinakaran.
Dhinakaran and his supporters have blamed the raids on the AIADMK's ruling faction led by Chief Minister E Palaniswamy and his deputy O Panneerselvam.