Highlights
AIADMK chief Sasikala was found guilty of corruption on Tuesday
She has been sentenced to four years in a prison in Bengaluru
Decision on giving her a cot to sleep on will be taken by doctors today
Bengaluru:
VK Sasikala, prisoner number 9234, slept on the floor on her first night in jail in Bengaluru, without any of the facilities she had requested. She began a four-year prison term yesterday after being convicted of corruption by the Supreme Court.
The 61-year-old chief of Tamil Nadu's ruling AIADMK is sharing a cell, but it is not clear if her roommate is sister-in-law Ilavarasi, who was also convicted. A decision on providing her a cot to sleep on will reportedly be taken by doctors today.
This morning, Ms Sasikala had tamarind rice with chutney from the breakfast menu, say officials. She also "meditated for a few minutes".
Moments after walking into the Parappana Agrahara Central Jail in a rust sari last evening, Ms Sasikala asked a judge for a Class 1 cell citing health problems like diabetes.
Such a cell comes with privileges like a private television, home-cooked food and non-vegetarian meals twice a week. The request was denied. She had also asked for space to meditate and round-the-clock medical help if needed.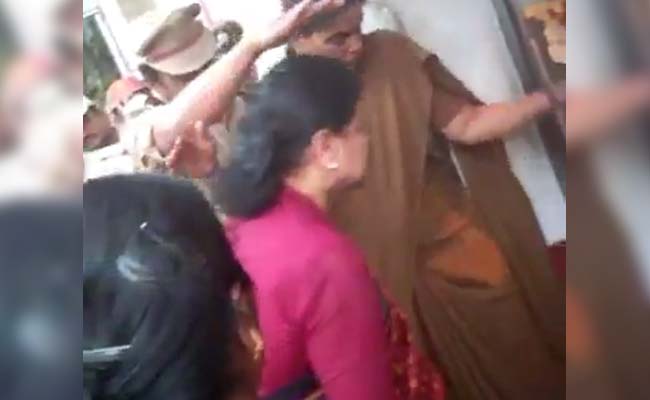 "There will not be any special privileges for Sasikala. At the most she will be counseled so she can adjust to the jail," an official had said yesterday.
Reports suggested that she has been assigned the task of candle-making in jail, but officials say it is too early.
Ms Sasikala had spent three weeks in the same prison in 2014 along with former Tamil Nadu Chief Minister J Jayalalithaa, after both were held guilty of making a fortune beyond their known sources of income in the 1990s.
Much has changed since then. Ms Jayalalithaa died on December 5. There are hardly any AIADMK workers outside the prison this time.
The case was shifted from Tamil Nadu to Bengaluru in 2003 for a fair trial.
Before going to jail, Ms Sasikala took some vital decisions in Chennai to secure her grip over the ruling party. She picked loyalist E Palanisamy as Chief Ministerial candidate and brought back two nephews who had been expelled by Jayalalithaa in 2011.
Sources say in prison, Ms Sasikala has been eager for updates on political developments in Chennai, where Governor C Vidyasagar Rao may soon announce his decision on Chief Minister. Her lawyers may again press for a TV for her.