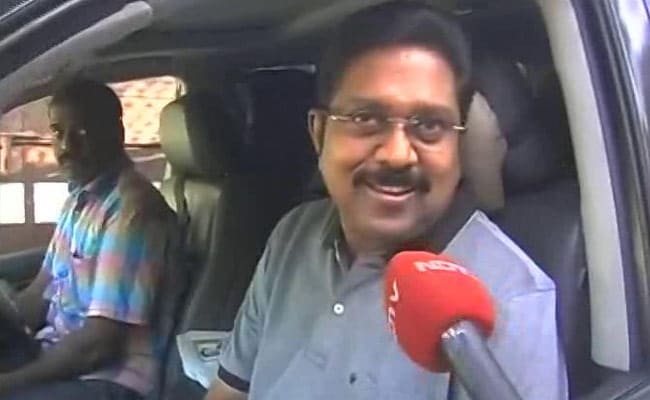 Madurai:
Buoyed by the turnout at his rally yesterday, a combative AIADMK (Amma) leader TTV Dhinakaran today warned the party factions led by Chief Minister E Palaniswami and O Pannerselvam to mend their ways or be prepared to be "mended".
Seeking to
reclaim his authority
after the Palaniswami camp adopted a resolution on August 10 declaring Mr Dhinakaran's appointment as the party's deputy general secretary illegal, he had yesterday held a rally at Melur near Madurai, which was attended by 19 legislators and six parliamentarians.
Mr Dhinakaran had said in April he was "stepping aside" after the Palaniswami and Panneerselvam camps decided to start talks for merger of the two factions. Though a merger did not materialise then, there are indications of a thaw in their ties after the Palaniswami camp declared Mr Dhinakaran's appointment by his aunt and party general secretary VK Sasikala illegal.
The Panneerselvam camp has already approached the Election Commission seeking annulment of the appointment of Mr Dhinakaran and Sasikala. Sasikala is serving a prison term in a disproportionate assets case in which late Chief Minister J Jayalalithaa was the main accused.
"They should mend their ways and come back to the party... or they will be mended," Mr Dhinakaran told reporters after praying at Meenakshi temple.
Without naming anyone, Mr Dhinakaran said they were "committing mistakes". The rally, the first in a series announced by him for celebrating the birth centenary year of party founder MG Ramachandran, was seen as a show of strength by the Dhinakaran camp.