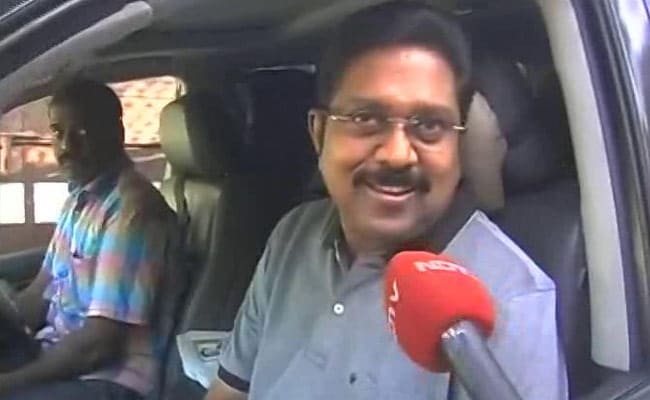 Highlights
TTV Dhinakaran today held a rally in Madurai, seen as a show of strength
Mr Dhinakaran claims support of about 40 of the party's 133 MLAs
Other faction led by Panneerselvam has the support of 10 MLAs
Chennai/New Delhi:
Amid talks of a merger between the two factions of Tamil Nadu's ruling AIADMK, TTV Dhinakaran, the party's sidelined number 2 today held a big rally in Madurai, seen as a show of strength as he attempts a fightback. At the rally reportedly, were 20 AIADMK legislators. Mr Dhinakaran claims he has the support of about 40 of the party's 133 MLAs and several ministers, and he disputes Chief Minister E Palaniswami's contention last week that his appointment as AIADMK deputy general secretary was illegal.
"I have a responsibility to prepare the AIADMK for Lok Sabha polls...I have a duty to unite the party," said Mr Dhinakaran in his address to an estimated crowd of about 30,000 people. It was his first public rally since his hasty appointment earlier this year by his aunt VK Sasikala as she headed to a jail in Bengaluru after being convicted for corruption. Weeks before that, Ms Sasikala had been appointed the AIADMK's general secretary to replace J Jayalalithaa, who died as chief minister in December last year.
Ms Sasikala's appointment as party chief and her ambition to also be Chief Minister led to the split of the AIADMK, with O Panneerselvam, divested of the top post, rebelling. For a reunification plan to work, Mr Panneerselvam's faction has told the side led by Mr Palaniswami, both Mr Dhinakaran and Ms Sasikala must be formally removed from their party posts. It also wants a CBI investigation into Mr Jayalalithaa's death.
Mr Panneerselvam has the support of 10 party legislators, which leaves the Chief Minister with a very slim majority of six MLAs in the state assembly. Both factions have been watching Mr Dhinakaran's rally today closely for how many legislators attend. Also watching is chief opposition party, the DMK.
The support of 40 AIADMK legislators that he claims he has would mean Mr Dhinakaran can do massive damage to E Palaniswami's government. The support of 20 that his rally drew today is still a worry that he could topple Mr Palaniswami's government. A merger with the other faction would help his numbers. The DMK is waiting for a chance to demand the dismissal of a weakened Mr Palaniswami.
Both Mr Palaniswami, last week, and O Panneerlesvaam or OPS today, met Prime Minister Narendra Modi, with his party the BJP said to be encouraging a re-merger of the AIADMK ahead of crucial local polls; the factions need to merge for the party's two-leaf election symbol, currently frozen by the election commission, to be free for use again.
The merger talks were fast-tracked by Mr Dhinakaran trying to assert his position by naming loyalists to party posts recently. The move was made easier by the corruption allegations against Mr Dhinakaran - one of the key ones being his alleged efforts to bribe the Election Commission officials before the by-elections in RK Nagar, the constituency in Chennai held by Ms Jayalalithaa. The Election Commission was expected to take a call on whom to award the two-leaf symbol of the AIADMK - both factions had staked claim to it in an effort to take over the party and Jayalalithaa's political legacy.
After the bribery allegations, the polling was put on hold by the Election Commission. Mr Dhinakaran was arrested from Delhi in April along with the middle-man in the case. He is currently out on bail.