Chennai:
Sidelined AIADMK leader TTV Dhinakaran and 16 of his supporters have been accused of sedition and defaming Prime Minister Narendra Modi and the state's Chief Minister E Palaniswami in a police case filed in Salem. They allegedly distributed pamphlets that talked about overthrowing Mr Palaniswami and included personal attacks on him and the Prime Minister.
Five people, including a former AIADMK legislator have been arrested and the police did not rule out the arrest of Mr Dhinakaran, whose photo is reportedly on the pamphlets. The police complaint was made by a man called Vinayakam, who alleged that the pamphlets were distributed outside a hall in Salem where Mr Palaniswami was holding a meeting with senior officials on Sunday.
Mr Dhinakaran has alleged that the case has been filed against him because the Chief Minister is also Tamil Nadu's "police minister," - Mr Palaniswami has charge of the home department which looks after law and order. "This government is anyway going to fall. They are doing such these things since he (Palaniswami) is the police minister... Let them do what they want. The AIADMK supporters and the people are going to send them home," Mr Dhinakaran told reporters in Chennai.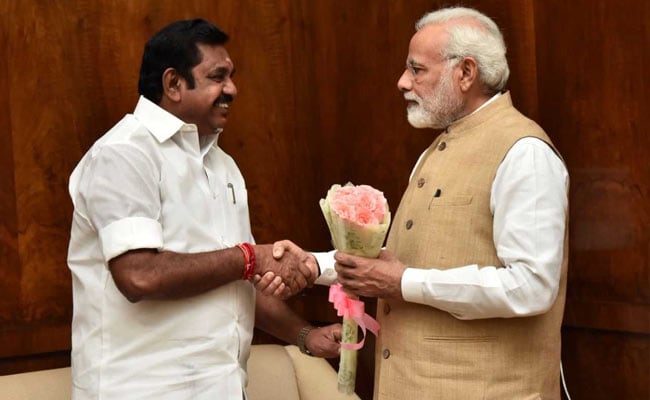 TTV Dhinakaran and his aunt VK Sasikala were recently evicted by the AIADMK, but they assert that they still remain the party's chief and number 2. While Ms Sasikala is in jail in a corruption case, Mr Dhinakaran is locked in a tussle with Mr Palaniswami over control of the party and, along with 18 AIADMK legislators who support him, has been demanding the Chief Minister's removal threatening to bring down the government if that does not happen.
Over the last few months, he has had a series of meetings with the Governor to demand that Mr Palaniswami be asked to prove he has majority support in the assembly in a trust vote and has also approached the court.
Last month, Tamil Nadu Speaker P Dhanapal disqualified the 18 MLAs loyal to Mr Dhinakaran under defection laws. This has ensured that Chief Minister Palaniswami will have no difficulty in proving majority support if he has to face a trust vote. His numbers have also been boosted with the merger he effected with a faction of the AIADMK led by his predecessor and now his deputy chief minister O Panneerselvam.
Mr Dhinakaran is also accused, along with his supporter and actor Senthil, of making defamatory remarks against P Kumar, an AIADMK lawmaker from Tiruchirappalli.
TTV Dhinakaran was appointed AIADMK's deputy general secretary by Ms Sasikala as she headed to jail in February this year. In April, he was arrested for allegedly attempting to bribe Election Commission officials to secure the AIADMK's "two leaves" election symbol for his faction, which included the Chief Minister at that time.
The other contender for the symbol was O Panneerselvam, who made the eviction from the party of Ms Sasikala and Mr Dhinakaran a key condition for last month's merger.
VK Sasikala, for years a live-in aide of J Jayalalithaa, took over as AIADMK chief soon after the death of the former chief minister in December last year. Ms Sasikala also wanted to be Tamil Nadu chief minister but was jailed before she could take over the top post which she forced Mr Panneerselvam to vacate for her, leading to the party's split.
Follow NDTV for latest election news and live coverage of assembly elections 2019 in Maharashtra and Haryana.
Subscribe to our YouTube channel, like us on Facebook or follow us on Twitter and Instagram for latest news and live news updates.