Chennai:
Highlights
Sasikala, convicted in corruption case, serving four-year jail term
She handpicked Palaniswami for the top job before heading to jail
Now he must prove he has majority support in the Tamil Nadu legislature
VK Sasikala watched Edappadi Palaniswami, the man she handpicked for the top post,
take oath as the new Chief Minister of Tamil Nadu
on television at the women's barracks of a Bengaluru prison on Thursday. Watching the oath ceremony with the AIADMK chief was her sister-in-law Ilavarasi, also convicted for corruption in the same case as Ms Sasikala, and other inmates.
Mr Palaniswami, who will seek a vote of confidence in the Tamil Nadu legislature tomorrow, is expected to visit the Bengaluru jail either on Sunday or Monday to meet Ms Sasikala, whose chief ministerial aspirations were crushed by the Supreme Court verdict earlier this week.
E Palaniswami, fiercely loyal to the party chief is seen as her proxy and many expect Ms Sasikala to have control of both the party and the government from jail - before she left Chennai she also appointed her nephew TTV Dinakaran as the ruling AIADMK's deputy chief.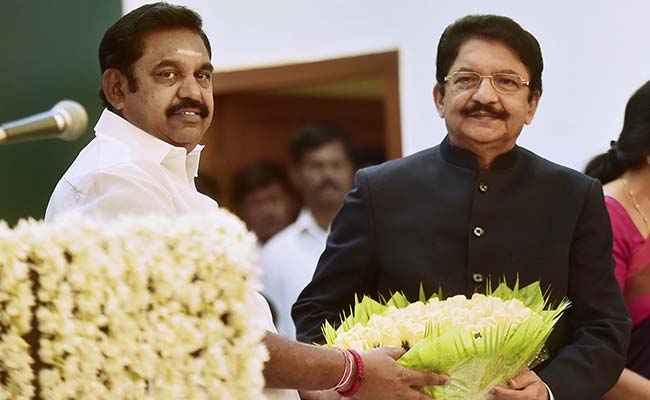 The new chief minister and the ruling party's other legislators are back at a five-star resort as Mr Palaniswami guards his flock before tomorrow's trust vote. He has to prove the support of at least 117 legislators on the floor of the 234-member assembly.

Team Sasikala, triumphant at having been invited to form government, has indicated that all members of the rival O Panneerselvam camp are welcome back into the party fold except former chief minister O Panneerselvam himself, who has been branded a "traitor" for rebelling against Ms Sasikala and challenging her for the post of chief minister.

Mr Panneerselvam too had staked claim to form government but could not convince more than a handful of legislators to cross over to his side. He has said he will continue fighting Ms Sasikala and her family, who had been banished by Amma or J Jayalalithaa, the party's powerful leader who died in December as chief minister.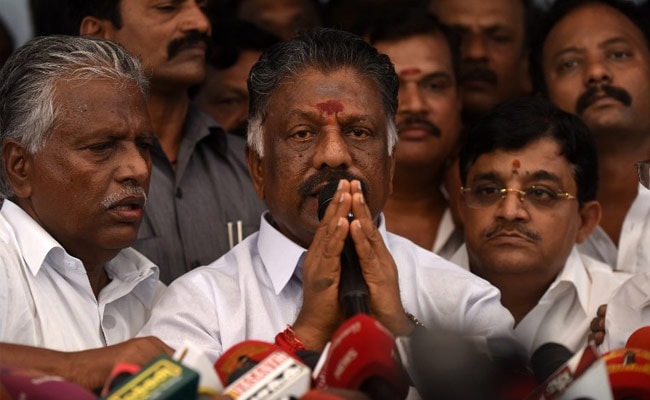 "Let us all together stop the party and government from going into the hands of a single family again. Let us form a people's government again in sync with the aspirations of people and till then this struggle will continue," Mr Panneerselvam has said, adding that his "Dharam Yudh or crusade" will continue "Till such time Puratchi Thalaivi Amma's regime is restored."

Mr Panneerselvam, twice chosen by Ms Jayalalthaa as stop-gap Chief Minister when she had to resign over corruption charges, took oath for a third time hours after she died on December 5. He resigned earlier this month to allow Ms Sasikala to become chief minister, but rebelled soon saying he should continue in the top post.

Ms Sasikala's bid was cancelled earlier this week when the Supreme Court confirmed a four-year jail term which means she can't hold public office or contest elections for the next 10 years.

The corruption case dates back to the late 1990s, when Ms Jayalalithaa and her closest companion Ms Sasikala were accused of profiting from the chief minister's office and acquiring wealth beyond their income. They were jointly accused of illegally amassing bungalows, luxury cars, tea estates and vast quantities of gold worth $10 million.

Ms Sasikala, along with Ms Jayalalithaa, had spent nearly a month in the same Bangalore prison in 2014 before being let out on bail.