Chennai:
Highlights
Sasikala Natarajan could be AIADMK general secretary, say sources
She has never held a post in the party or Tamil Nadu government
Party inclined to distance from Sasikala's corruption cases, say sources
J Jayalalithaa's close companion Sasikala Natarajan, always her faithful shadow, remained firmly by her side on Tuesday as lakhs streamed into a public hall in Chennai to pay their last respects to the four-time Chief Minister of Tamil Nadu.

Sasikala's family members flanked the body, not any leader of Jayalalithaa's AIADMK or even her loyalist O Panneerselvam, who kept her photo on the dais as he took oath as Chief Minister late last night.

The dominating presence of Sasikala, in a black sari and red-rimmed eyes, was seen by many as symbolic of the power that the former video store owner enjoyed for decades as the other occupant of Jayalalithaa's Poes Garden home in Chennai.

By dint of that association, Sasikala, 59, is emerging from the background as a key figure in Tamil Nadu politics. Sources say she or a person of her choice could take over as the general secretary of the party - essential for her to retain her grip on power.


But this part of the succession plan may not be as smooth as
Panneerselvam's appointment
, for which party leaders projected a united front.
Sasikala has never held a post either in the government or the party - and that is how Jayalalithaa kept it for three decades, even though she confided in her and relied on her for advice.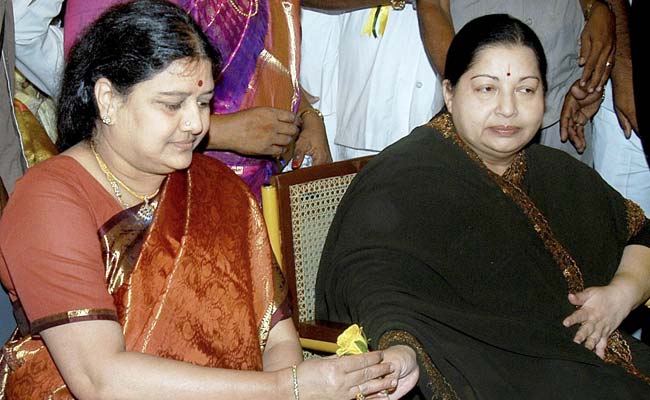 The other disadvantage in Sasikala's corner is that she faces corruption cases linked to her unaccounted wealth and land deals. Sources say many AIADMK leaders feel inclined to distance the party from these cases. It will not be easy; Sasikala was one of the three power centres that emerged when
Jayalalithaa
was in hospital - besides Mr Pannerselvam, and former chief secretary Sheela Balakrishnan, who advised her.
Sasikala was introduced to Jayalalithaa in the 1980s and, over the years, became a permanent presence in her life and her home.

Jayalalithaa was criticized for the extravagant wedding of Sasikala's nephew, adopted by the Chief Minister as a foster son, in 1995. The two, dressed in almost identical jewellery and saris, became one of the most abiding images of Jayalalithaa's life.

In December 2011, the besties fell apart and Jayalalithaa briefly expelled Sasikala, her husband and family members from the party, suspecting that they were plotting against her. It didn't last. Four months later, Sasikala publicly distanced herself from her family and was back with her "Akka" (sister).
Get Breaking news, live coverage, and Latest News from India and around the world on NDTV.com. Catch all the Live TV action on NDTV 24x7 and NDTV India. Like us on Facebook or follow us on Twitter and Instagram for latest news and live news updates.