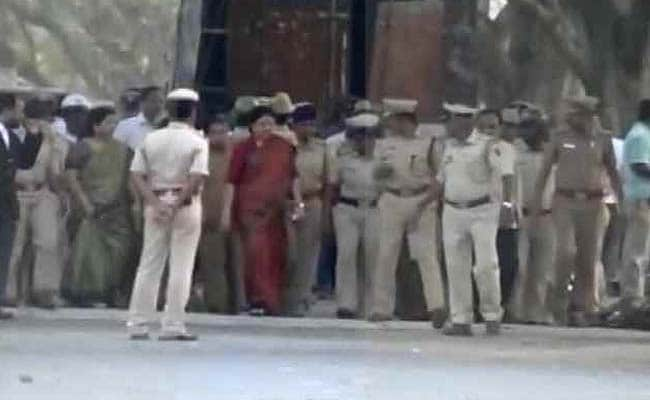 Highlights
Sasikala, convicted of corruption, slept on the floor of a 10x8 cell
She began her four-year prison term on Wednesday
She has requested a judge for a Class 1 cell, citing health reasons
Bengaluru:
VK Sasikala,
prisoner number 9234 at Bengaluru's Central jail
, had a hard time last night, said a leader of her party, the AIADMK.
Denied the privilege of home food and other facilities
, she had refused the jail dinner on Wednesday night and had to sleep on the floor of a 10x8 cell. She could not sleep and was restless, the leader said. The
jail had served her two rotis, one ragi ball, 200 gm rice and 150 gm sambar (lentil)
like all other inmates.
"Chinnamma could not sleep well and was restless as she had to sleep on the floor in a 10x8 feet ordinary cell in the women's barracks after jail officials denied her request for a mattress," news agency IANS quoted AIADMK's Karnataka unit Secretary, V Pugazhendhi, as saying.
This morning, she woke at 5 am, did yoga, read newspapers and walked in the barracks for a while. She had lemon rice for breakfast and a "frugal meal" of sambar rice for lunch, Mr Pugazhendi said.
The 61-year-old, whose run for the Chief Minister's post had been brought to a stop by the guilty verdict of the Supreme Court, began a four-year prison term yesterday after being convicted in a corruption case. The jail is the same one where Ms Sasikala had spent three weeks in 2014 along with former Tamil Nadu Chief Minister J Jayalalithaa. Both of them were held guilty of possessing assets worth 60 crores - far beyond their known sources of income.
Moments after walking into the Parappana Agrahara Central Jail in a rust sari last evening, Ms Sasikala asked a judge for a Class 1 cell citing health problems like diabetes. Such cells come with a private television, home-cooked food and non-vegetarian meals twice a week. Doctors will decide today whether she will be provided a cot.
"When Saskiala's sister-in-law and co-convict Elavarasi cajoled her to have food in view of her weak health, she took rice with sambar and butter milk," IANS quoted a jail source as saying.
Reports suggest that Ms Sasikala has been assigned the task of candle-making in jail, but officials say it is too early.