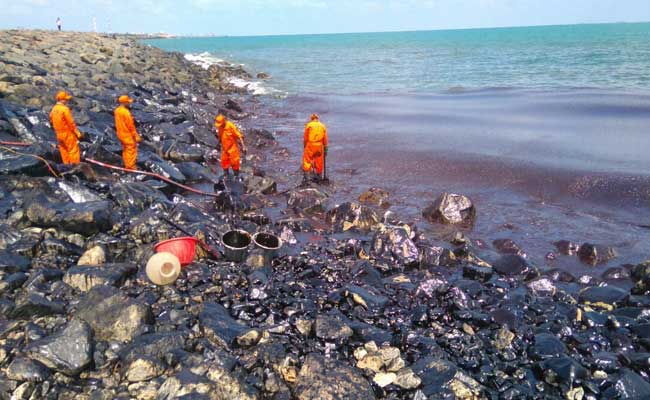 Chennai:
The oil spill on the seas near Chennai, caused by the collision of two cargo ships on Saturday, has turned out to be much larger than expected. While the Ennore port had estimated that only 1 tonne of oil has been spilt, the Coast Guard has said the amount is no less than 20 tonnes - a huge threat to the marine life in the area.
Around 15 tonnes of oil and sludge has been collected so far and a ship has also been pressed into action to spray chemicals that would disperse the spill.
Three "super suckers" -- truck-mounted machines used to clean silt from drains by the local civic body - has been deployed to remove the oil spill.
The Coast Guard has been trying to remove the oil spill manually, news agency Press Trust of India has quoted District Collector E Sundaravalli as saying.
The administration has claimed that there has been no damage to the environment. But locals have reported seeing dead turtles from the coast of north Chennai. The fisheries department will be giving a detailed report on the oil spill's effect on marine life.
Chennai's Marina Beach area is expected to be cleaned up by Wednesday. But the shore in and around Ennore and Kasimedu in the northern part of the city, has also been hit by the oil spill.
The collision had taken place around 4 am on Saturday when MT BW Maple - a ship from the Isle of Man - which was on its way out of the Ennore port, hit MT Dawn, an Indian ship loaded with petroleum oil lubricant. The ship, which was coming from Kanchipuram, was on its way to the berth.