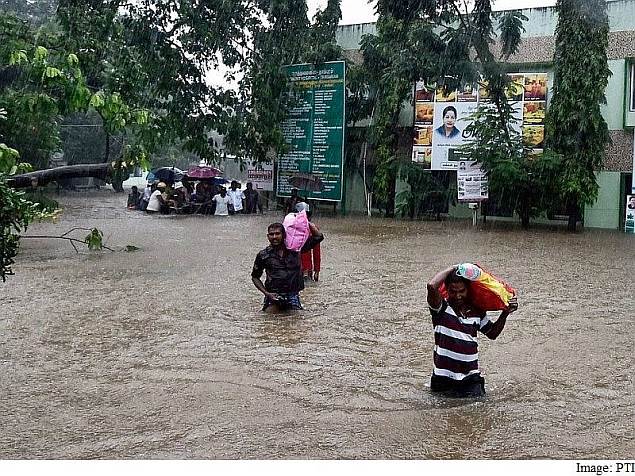 Chennai:
Excessive discharge of water last night from Chembarambakkam lake on the outskirts of Chennai flooded new areas of the city threatening to uproot people from their homes.
Teams of the National Disaster Relief Force (NDRF), Army, Navy and commandos of police and fire service personnel were deployed for rescue and relief works in the worst-affected areas of Kotturpuram, Jafferkhanpet and Nandanam on the banks of the Adyar river which has been overflowing for the last two days.
For the first time in over 40 years, the water has risen rapidly on the river breaching the road and the Maraimalai Adigal bridge in Saidapet cutting the arterial Anna Salai (Mount Road), rendering it out of bounds for motorists.
Though there has been little rain since last night,
the fresh flooding of the streets
in the heart of the city in areas like Kodambakkam and T.Nagar and Ashok Nagar has been caused by the release of an estimated 30,000 cusecs of water from the Chembarambakkam lake, one of city's source of drinking water.
The reservoir has been in surplus because of heavy inflow due to rains in the catchment area.
The sky is overcast and people are worried about the forecast of showers over the next three days.
Chief Minister Jayalaliathaa is likely to make an aerial survey of the flood-hit areas of Chennai and its suburbs and the neighbouring districts of Tiruvallur and Kanchipuram.
Milk and other essentials like vegetables are in short supply. A half-litre packet of milk was being sold at Rs.50 in many areas. Diesel and petrol are in short supply and there are long queues of motorists at the few number of petrol pumps that supply them.
Over 50,000 people have been rescued from flooded homes in various areas and lodged in relief centres opened by the Chennai Corporation.
The Air Force and Army are said to be rushing in with supplies for the people in distress.
Emergency Toll Free Number: 1910, State Emergency: 1070, District Emergency: 1077, Electricity:1912, Fire & Rescue: 101, Ambulance: 108, Tree fall, waterlogging - 1913, Sewage overflow - 45674567, 22200335
Helpline Numbers: Tiruvottiyur : 09445190001, Manali: 09445190002; Madhavaram: 9445190003, Ambattur: 9445190007; Tondiarpet: 9445190004, Royapuram: 9445190005; Annanagar: 9445190008, Teynampet: 9445190009, Alandur: 9445190012, Adyar: 9445190013,Perungudi: 9445190014
Flood Control Room: 28593990, 044-28410577,9445869843/47