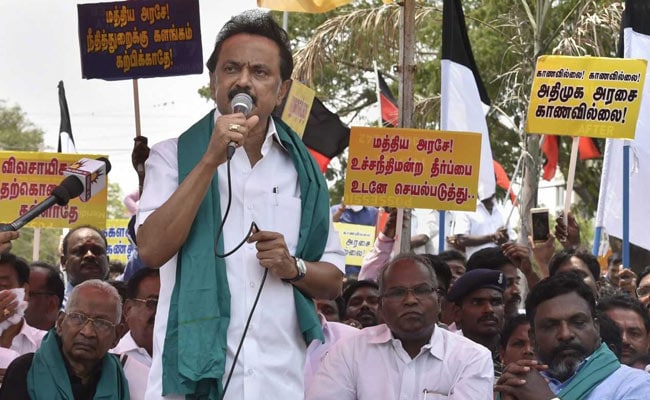 Chennai:
DMK working president MK Stalin today described as "drama" the Tamil Nadu government's order to permanently close the Sterlite plant at Tuticorin.
"It is an eyewash, a drama," Mr Stalin, who is also the leader of the opposition in the assembly, said.
If this decision had been taken without the "killing" of 13 lives, the government's good intention could have been appreciated, he told reporters here after chairing a meet of party lawmakers ahead of the start of the assembly session tomorrow.
As this decision comes "after killing 13 people," and injuring many, it clearly showed an "ulterior motive," for it.
Had the Cabinet been convened and a resolution adopted for the closure, it would have been "laudable."
"This government order (GO) is not a cabinet decision.You should know this is a government order of the Pollution Control Board," Mr Stalin said.
He said the plant's closure under similar circumstances in 2013 was also an "eyewash."
It was reopened later following a report of the Pollution Control Board that the unit was safe, he said.
If the government had no motive behind its order, by now action must have been taken against police officials including the DGP for the firing incidents which led to the loss of 13 lives, he said.
"So far no action has been taken. We will raise these issues in the Assembly tomorrow," he said adding if action was not taken, his party would approach the court.
Following the government order, the Tuticorin based copper smelter plant belonging to the Vedanta group was immediately sealed by authorities.
Top actor Rajinikanth, who is set to enter politics, said the closure was a "victory," adding it was dedicated to the people who lost their lives in the police firing.
"I pray to God that such incidents which took innocent lives do not continue in future," he said in an audio message shared on his twitter handle.
Makkal Needhi Maiam chief Kamal Haasan described the closure as a victory for the might of the people.
"All political parties should humble themselves before this victory of the people; salute the martyrs and learn from them."
Had the government acted swiftly, it would have avoided the unfortunate loss of lives, he added.
CPI (M) state secretary K Balakrishnan said the closure showed that the government which attempted to suppress the anti-Sterlite agitation, eventually bowed due to "people's voice of opposition."
Referring to the deaths of 13 people, MDMK chief Vaiko said the AIADMK government went in for closure to escape from the people's ire and avoid blame.
He reiterated his demand seeking the resignations of Chief Minister K Palaniswami and Tamil Nadu Director General of Police TK Rajendran over the police firing and deaths of people.