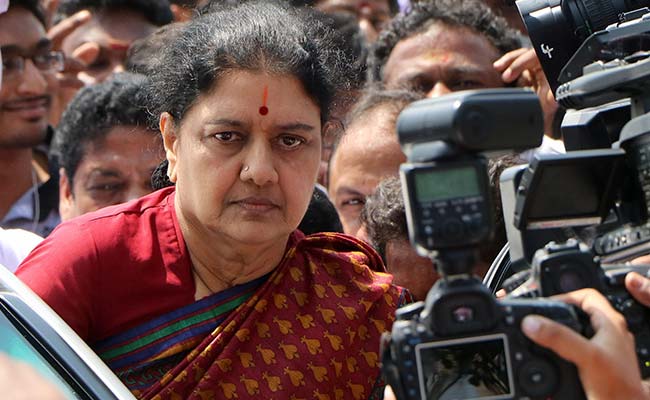 Chennai:
The Madras High Court today upheld a CBI court order convicting son-in-law and daughter of jailed AIADMK leader VK Sasikala's sister in a Rs 1.68 crore disproportionate assets (DA) case registered two decades ago.
Justice G Jayachandran dismissed appeals filed by S R Baskaran, a Reserve Bank of India employee, and his wife B Sreedaladevi challenging the Special CBI court order of August 26, 2008, convicting and sentencing them.
Sreedaladevi is the daughter of B Vanithamani, sister of Sasikala, who is serving a four-year jail term in a wealth case. Deposed AIADMK deputy general secretary T T V Dhinakaran is Sreedaladevi's brother.
The CBI had registered a case in November, 1997, against Baskaran and Sreedaladevi and conducted searches against them at various places, during which the investigating agency seized movable and immovable assets including 80 gold bars from a bank locker.
The agency had charged Baskaran with amassing assets disproportionate to his known sources of income, to the extent of Rs 1,68,54,305, which stood in the name of his wife.
The trial court held them guilty for offences under the Prevention of Corruption Act and Indian Penal Code sections, and sentenced Baskaran to undergo rigorous imprisonment for five years and his wife to three years, besides imposing a fine of Rs 20 lakh and Rs 10 lakh on them respectively.
Confirming the lower court order, Justice Jayachandran held that the "investment in movable and immovable assets, cash, gold and silver articles, seized during the searches, by no stretch of imagination gave an impression that they were acquired through legal source".
Through documentary and ocular evidence, the prosecution has proved the guilt of the accused to the core, he said.
Referring to the appellants filing Income Tax returns admitting undisclosed income and coming forward to pay the tax after the searches and seizures, the judge held mere declaring of income to authorities belatedly without accounting for the same would not make the source (of income) a lawful one.
Baskaran had joined the RBI in 1988 as a clerk.
According to prosecution, before joining RBI, Baskaran disclosed his total assets at Rs 2,96,816. At the end of the check period, as on July 31, 1998, his total immovable properties were Rs 87,96,823 and the movable Rs 2,28,91,994.
(Except for the headline, this story has not been edited by NDTV staff and is published from a syndicated feed.)