Chennai:
Highlights
Actor Kamal Haasan asks fans to prep for big news
Says plans will be shared on his birthday early next month
Has been saying he's shortlisting date for political debut
Tamil superstar Kamal Haasan has promised a big announcement on his birthday on November 7, asking fans today to "get ready". In a column today in a popular Tamil magazine, the 62-year-old said he will "give details of arrangements soon and will ensure that fans can coordinate" with his team and him, suggesting that his political launch may be taking final shape. One of many giveaways in his column: "I invite with folded hands those who think its their responsibility to serve Tamil Nadu."
Haasan has been saying since July that he's ready to form his own political party. Last month, he said he will recruit "fresh, young faces" and crowd-source funds to ensure transparency, policies that he admits are inspired by the Aam Aadmi Party of
Arvind Kejriwal with whom he lunched at his home in Chennai
a few weeks ago.
Haasan has however said he will have no arrangement with either Mr Kejriwal's outfit. He also ruled out any sort of understanding with the BJP, declaring "saffron is not my colour" before publicly attacking Prime Minister Narendra Modi who he said should apologise for his decision a year ago to ban high-denomination notes.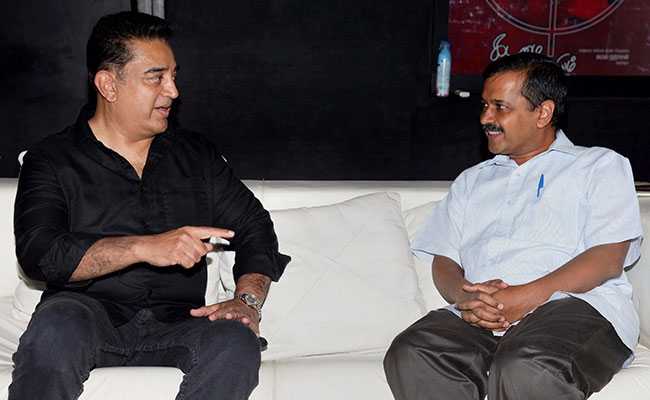 Haasan has said that it would be "vulgar" to compare his political debut and trajectory with that of Tamil mega-star Rajinikanth, who has also plans to kickstart a political role, though without offering any details of when or with whom.
Haasan has regularly berated the incumbent Tamil Nadu government, describing the ruling party AIADMK as embedded in corruption.
His birthday is usually marked by his legions of fans as "Welfare Days" which involve large blood donation camps or other forms of public service.
Get Breaking news, live coverage, and Latest News from India and around the world on NDTV.com. Catch all the Live TV action on NDTV 24x7 and NDTV India. Like us on Facebook or follow us on Twitter and Instagram for latest news and live news updates.