Chennai:
Actor Kamal Haasan made it clear on Thursday that he is interested in the lead role in Tamil Nadu politics. Asked whether he is ready to be Chief Minister,
he told India Today
without the slightest hesitation: "I will. If it is required."
To the interviewer commenting that "everyone wants to be the chief minister of Tamil Nadu", the actor cut in: "...including Kamal Haasan, who dares to say that if there's the possibility, he will come."
Someone has to wear the Neta's cap, the veteran actor said. "It will be a crown of thorns. Someone has to clean the quagmire and make this place habitable for people. I'm not hungry for power but we will seize the opportunity if that's the only way to deliver for the people."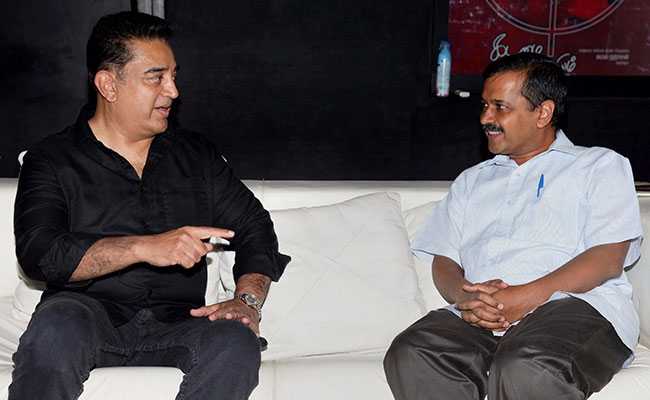 Mr Haasan's clearest admission yet of his political ambition followed a
lunch meeting with Delhi Chief Minister Arvind Kejriwal
at his home in Chennai yesterday. Later, both said they would fight corruption and communal forces together.
Mr Kejriwal remarked that Kamal Haasan should join politics, and that he was among the rare breed of people who had the courage to "stick their neck out against communal forces".
Kamal Haasan likened the meeting to educational tourism. ''I am on a learning curve,'' shared the actor, popular as Ulaganayagan that translates to "ruler of the world".
This is the second chief minister Kamal Haasan has met since Kerala's Pinarayi Vijayan. After that meeting last month, there was speculation that he was warming up to the Left. "My colour is definitely not saffron. That much I can say now," he had said. Pressed to clarify his political leanings, he added: ''I want to be Centre, neither Left, nor Right. 'I will join hands with whoever agrees with my ideology.''
Before his meeting with Mr Kejriwal, there was similar buzz about whether the actor would join the Aam Aadmi Party (AAP).
Follow NDTV for latest election news and live coverage of assembly elections 2019 in Maharashtra and Haryana.
Subscribe to our YouTube channel, like us on Facebook or follow us on Twitter and Instagram for latest news and live news updates.