Highlights
Jayalalithaa takes oath as Chief Minister, 28 ministers also sworn in
She made history by winning a second consecutive term
500 government-owned liquor shops closed as part of phased prohibition
Chennai:
J
Jayalalithaa
took oath for the sixth time as Tamil Nadu's Chief Minister today and began a historic second straight term by getting started on the promise of prohibition in the state.
The Chief Minister has ordered 500 government-run liquor shops shut to start with, and has said liquor outlets can be open only from 12 pm to 10 pm.
Most parties in Tamil Nadu had promised prohibition, hoping to win over women voters with a move that has clicked in Bihar.
After her spectacular election victory against all odds, Ms
Jayalalithaa
also made good on other poll promises such as waiving farm loans and sanctioning 100 units of power free in all homes and gold mangalsutras or sacred threads worn by married women.
The 68-year-old former actor wore trademark green for her swearing-in at the Madras University Centenary Auditorium in Chennai. For her 28 ministers, there was a mass oath as their leader sat at the centre of the stage.
Earlier, thousands of supporters
showered rose petals
, chanted Jayalalithaa's name, waved green flags and danced as she went for her oath ceremony in an impressive convoy.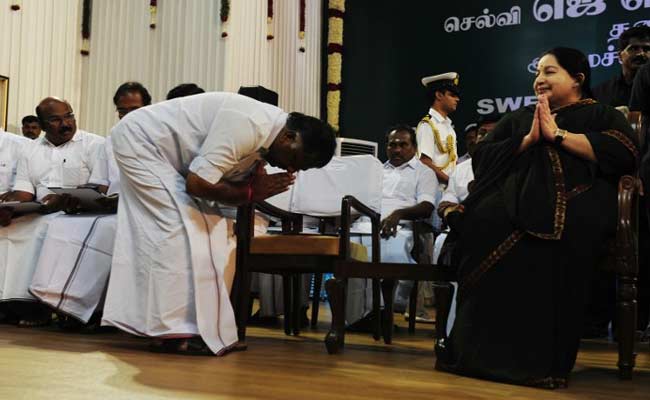 Ms
Jayalalithaa'
s rival, the wheelchair-bound 93-year-old M Karunanidhi of the DMK skipped the oath ceremony. His son and deputy MK Stalin broke with tradition to attend it but regretted it. The party was enraged that Mr Stalin had been seated in the back rows.
O Paneerselvam, avowed Jayalalithaa loyalist and the man who served as chief minister in the months that the AIADMK chief was in jail on corruption charges, continues to be the state's finance minister. Ms Jayalalithaa will retain important portfolios like police, home and general administration. Thirteen new ministers have joined the government.
Jayalalithaa made history last week by
winning a second consecutive term
in a state that had alternately voted her party and arch rival DMK to power for three decades.
The DMK has pointed out that the difference between its vote share and that of AIADMK is only a little over one per cent - 41.6 for Jayalalithaa's party and 40.2 for DMK plus. Mr Karunanidhi has delivered a warning by saying that a much more muscular DMK will function as a "constructive opposition" in the state assembly.
Ms Jayalalithaa had two years ago also swept the national election in Tamil Nadu
winning 37 of the state's 40 seats
and her AIADMK is the third largest party in the Lok Sabha after the ruling BJP and the Congress. The BJP-led Narendra Modi government counts on the support of the AIADMK to push legislation through, especially in the Rajya Sabha or upper house where it is in a minority.