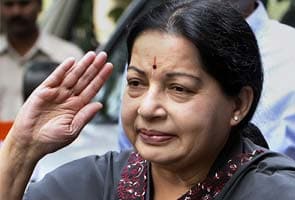 Chennai:
Bringing the curtains down on the uneasy alliance with actor Vijayakanth led DMDK, Tamil Nadu Chief Minister J Jayalalithaa today said it was a mistake by AIADMK to have aligned with him in last year's Assembly polls.
"I am ashamed and regret the fact that AIADMK faced the polls with unqualified persons who don't even know how to behave after reaching the top," she said in the Assembly after a fiery verbal clash with Vijayakanth and enmasse eviction of DMDK members.
DMDK had contested the April 2011 assembly polls as part of the AIADMK-led alliance that won a landslide victory ousting DMK from power and catapulting Vijayakanth's outfit to the position as principal opposition in the House with 29 members.
However, the two parties had been blowing hot and cold since then and contested the civic elections separately, signalling the beginning of the end of the alliance.
Jayalalithaa said her party would have tasted the same success even in the absence of DMDK as people had made up their mind to defeat the DMK government.
"DMDK was fortunate to strike an alliance with us. It is because of that they managed to win and get the status of the main Opposition party," a visibly angry Jayalalithaa said.
The AIADMK chief said she did not have the "slightest inclination," for a tie-up with DMDK but bowed to her partymen's wish for the same.
Referring to Vijayakanth's conduct during the heated exchange between members of the two parties, she said DMDK's good times "had ended and it will be downslide now on."
She dared Vijayakanth to face her party in the coming Sankarankovil assembly by-election to which he retorted saying it was usual for ruling parties to win bypolls.
Speaker D Jayakumar referred to the Privilege Committee the behaviour of Vijayakanth and other DMDK MLAs, which Jayalalithaa described as "minimum" punishment saying their act warranted suspension from the entire session.