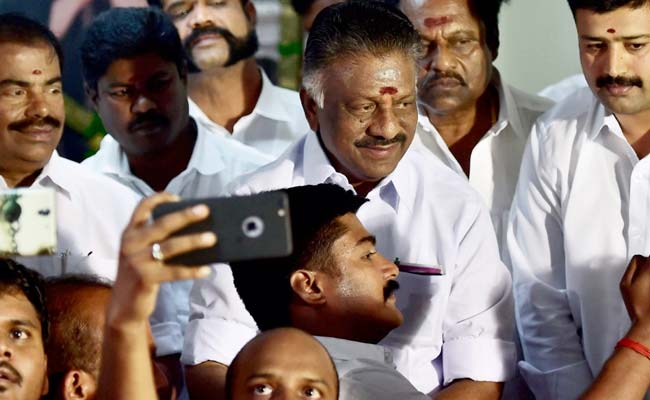 Highlights
Back-channel talks on to prevent a split in AIADMK, say sources
Sasikala's nephew reportedly in touch with Team Panneerselvam
Sources say he is pushing for mediation, possibly through the centre
Chennai:
As Edappadi Palaniswami, a man handpicked by VK Sasikala, took charge in Tamil Nadu today, outgoing Chief Minister O Panneerselvam said his battle would continue. Mr Palaniswami, 63, is an AIADMK veteran who was close to former Chief Minister J Jayalalithaa.
His appointment was seen to neutralize much of the anti-Sasikala sentiment that had powered Mr Panneerselvam's stunning revolt over a week ago.
O Pandiarajan, one of the lawmakers who had left the Sasikala camp and joined Mr Panneerselvam last week, has dropped big hints of a ghar wapsi (homecoming).
"There should be no disintegration of the party," Mr Pandiarajan told NDTV, adding that it was "Amma (Jayalalithaa's) wish" that the party should stay united.
Ms Jayalalithaa died on December 5. Weeks later, the AIADMK was to witness a massive power tussle between Mr Panneerselvam, her biggest loyalist, and Ms Sasikala, her long-time companion.
Ms Sasikala yesterday went to jail for corruption but made sure that her camp would stay in charge.
Sasikala loyalist C Rajasekharan, asked about the rebels, said, "Everyone is welcome to come back. But Panneerselvam is a traitor."
But back-channel talks have been on to prevent a split in the ruling party. Mr Panneerselvam has the support of 11 legislators and 11 parliamentarians.
"Mr Paneerselvam still commands popular imagination," Mr Pandiarajan said.
Ms Sasikala's nephew TTV Dinakaran is reportedly involved in the talks for a patch-up. Mr Dinakaran, who was expelled by Jayalalithaa in 2011, was brought back by Ms Sasikala as its number two yesterday.
Mr Dinakaran, sources say, is pushing for mediation, possibly through Delhi.
Union Minister Venkaiah Naidu has reportedly been "advising" the AIADMK; senior leader M Thambidurai on Tuesday met Mr Naidu, who reportedly suggested that the AIADMK should unite and form a stable government, besides maintaining good ties with the centre.
Mr Panneerselvam emerged a sort of a hero for those opposed to Ms Sasikala's attempts to step into the role of Ms Jayalalithaa. But he never had enough support.
He accused Ms Sasikala of keeping over 100 MLAs captive at a five-star resort near Chennai to stop them joining him. But a majority of the AIADMK lawmakers stayed on even after Sasikala left. They left today after Mr Palaniswami was invited to form government.