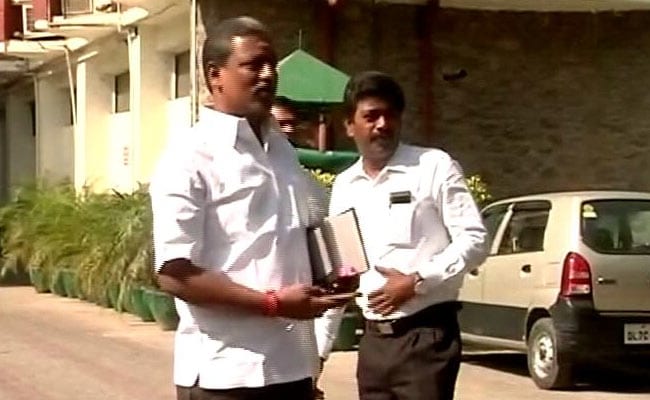 New Delhi:
The
big battle for AIADMK's "two leaves"
election symbol has started, with representatives from both VK Sasikala and O Panneerselvam camps making their representation before the Election Commission. A decision is expected today, in view of the coming contest for RK Nagar, Ms Jayalalithaa's constituency in Chennai that fell vacant after her death.
The case of the challenger Mr Pannerselvam -- Ms Jalayalithaa's trusted aide who stepped into her shoes as the Tamil Nadu chief minister after her death - is being argued by senior advocates CS Vaidyanathan and Guru Krishna Kumar.
"When Sasikala herself is convicted and can't vote and contest, how can she nominate a person for the assembly seat? We are hopeful we will get symbol. The Election Commission will pass the orders today," said Dr Maitreyan, who was part of the OPS camp.
The Sasikala faction is being represented by Salman Khurshid, Veerappa Moily and senior advocates Mohan Parasaran and Aryama Sundaram. Four ministers of the state, along with AIADMK lawmaker M Thambidurai are representing Ms Sasikala. The party chief is currently in jail, serving sentence in a corruption case.
"We have majority of MLAs and MPs. The other side doesn't have majority. How can they claim the symbol? EC will pass orders. We are hopeful," said Mr Sundaram after the representation to the Election Commission.
Mr Pannerselvam, who rebelled against Ms Sasikala days after stepping down from the top government post to make way for her, has contended that his faction is the original AIADMK. In the process, he has not only staked claim on the party's election symbol, one of its most precious assets, but also demanded that Ms Sasikala's appointment to the top post be scrapped.
The poll panel said today, it will take a call only on the party's poll symbol. The decision on Ms Sasikala's election can be taken later.
Ms Sasikala continues to head the party even from jail as there is no provision to bar a convict from heading a political party. The law restricts convicts from contesting elections within six years after completing the jail term, though the Election Commission has indicated that it is in favour of a lifetime ban.
From jail Ms Sasikala is seen as controlling the party and the government - her nephew, party treasurer TTV Dinakaran is the candidate for RK Nagar by-elections and her handpicked person, E Palaniswami is the Chief Minister.