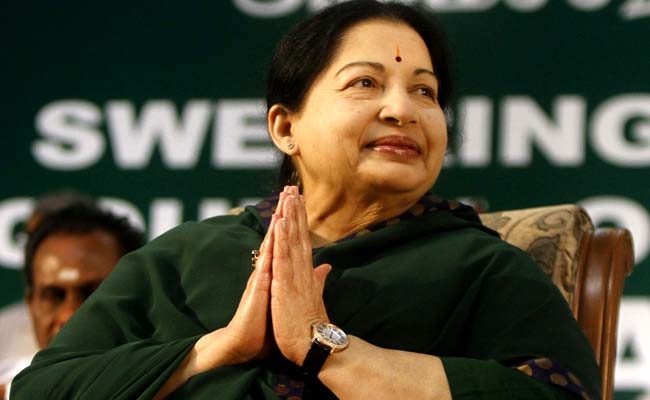 Chennai:
The Apollo Hospital in Chennai has said to a panel probing the death of late J Jayalalithaa, that CCTV cameras in the corridors were switched off during the former chief minister's movement inside the premises based on instructions by police.
There are no CCTV cameras in the treatment rooms in the hospital, be it the ICU or the CCU, in keeping with international practices, legal manager SM Mohan Kumar apprised the Justice A Arumughaswamy Commission of Inquiry in an affidavit on behalf of the hospital.
CCTV cameras are, however, positioned in spots like corridors and entrances for security purposes, counsel for the hospital, Maimoona Badsha said quoting the affidavit submitted on Friday.
The affidavit was filed to answer two queries of the commission related to CCTV cameras and issuance of press releases by the hospital.
"Whenever the late chief minister was taken out of her room for diagnostic tests like a scan within the hospital, the cameras covering those particular pathways were switched off," she told PTI.
This was done based on instructions from police officials, including Inspector General of Police (Intelligence) KN Sathiyamurthy, she noted.
The cameras would be turned on after she returned to her treatment room and the second floor of the hospital, where the late leader was being treated, was under the control of police, she added.
As regards to the press releases, the hospital submitted in its affidavit that ahead of the issuance of the first press note on September 23, 2016, J Jayalalithaa was involved in its preparation.
J Jayalalithaa had said information about her hospitalisation should be publicised so that there was "no panic."
Subsequently, the press notes detailing her condition were sent to the then chief secretary Rama Mohana Rao and health secretary J Radhakrishnan, who in turn approved them for release to the media.
On Friday, government secretary to former governor Ch Vidya Sagar Rao, Ramesh Chand Meena, and Apollo Hospital's Subbiah Viswanathan were among those who appeared before the commission, and counsel for Sasikala, Raja Senthoor Pandian, cross-examined them.
J Jayalalithaa had passed away on December 5, 2016, after being treated in the hospital for 75 days from September 22, 2016, for various ailments.
In September 2017, the state government had constituted a probe panel under the Commissions of Inquiry Act, mandating it to inquire into the circumstances leading to J Jayalalithaa's hospitalisation on September 22, 2016, and the treatment provided at the hospital till her demise.
The commission, whose term has been twice extended since then, had invited all those having "personal knowledge and direct acquaintance" to furnish information related to her.
Several people, including present Deputy Chief Minister O Panneerselvam and his followers, had earlier raised suspicions around the circumstances leading to Jayalalithaa's death.