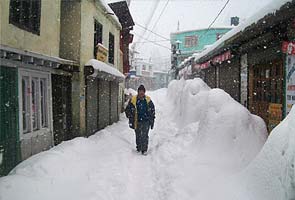 Srinagar:
Kashmir Valley on Tuesday got a slight respite from cold wave conditions as the minimum temperature increased by couple of degrees.
Srinagar recorded a low of 0.5 degrees Celsius against minus 2.1 degrees Celsius recorded the previous night, a MET official said.
He said Qazigund recorded a minimum temperature of minus 1.0 degrees Celsius, up by 1.6 degrees compared to Monday.
Gulmarg skiing resort in north Kashmir was the coldest place in the Valley where mercury settled at minus 8.6 degrees Celsius, up by 1.4 degrees.
Pahalgam resort in south Kashmir recorded a low of minus 1.9 degrees Celsius compared to Monday's minus 5.4 degrees Celsius, he said.
Leh and Kargil towns in Ladakh region witnessed a slight increase in night temperatures. Leh recorded a low of minus 14.1 degrees Celsius while Kargil recorded minus 16.0 degrees Celsius, he added.