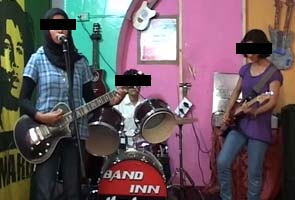 Srinagar:
Music defines them, but abuses and threats are forcing Kashmir's only girl band, Pragaash, to keep a low profile these days.
The band's members have been receiving warnings - even rape threats - on the social media ever since they first performed in Srinagar two months ago.
The attacks hit their morale, but with band manager Adnan Matoo's support, the girls are fighting on. They have decided against public performances for now. The focus is on producing an album.
"They are young. They cried after seeing the abusive comments online. I told them such things keep happening in the social media," says Mr Matoo.
Raheel Khurshid, Director (Communication) India, of online campaign portal change.org, says: "This is a classic case of vicious online abuse in which people think they can get away with anything. The problem is most of these things said on the Internet have ramifications in the real world."
Not that everyone in the online world loathes the band. Many have protested the abusive campaign and backed the girls.
Qurat ul Ain, a social activist in Srinagar, says: "We need to support the band and must make sure they continue to make music."