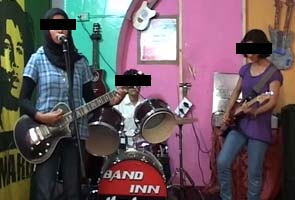 Srinagar:
In December, they won a competition, much appreciation and some fame. Only two months later Pragaash, an all-girl rock group from Kashmir, has disbanded.
They are quitting not because they received vicious hate mail on their Facebook page, says one of the girls, but to obey a senior priest, the Grand Mufti Bashiruddin Ahmad, who denounced their music as "un-Islamic." She will not play the guitar again, she says, because "the people of Kashmir are not happy with us."
Resignation and an acceptance beyond her age in her voice, the teen told NDTV, "Nothing has forced us to quit, we quit for the happiness of our people. As the grand Mufti said, it is un-Islamic and it is 'haram.'"
Their decision to disband will cause much dismay around the country; musicians, politicians and others have rallied in their support and urged Pragaash, which means first light, not to give up. (
Support Kashmir's all-girls band: comment here
)
The schoolgirl has thanked people for their support, but has a heart-rending message when asked what she would say to youngsters who want to be professional musicians: "Do what your heart says but I don't think you can do it in Kashmir. If you are outside, you can continue what you want to, you can't do it in Kashmir."
Future plans, she says, include finishing school and pursuing a degree in engineering. But no music. The Class X student is clear that on this, the priest's word is final. "We listen to the Mufti, we quit now and we are not continuing with this," she says firmly.
Yesterday, Chief Minister Omar Abdullah told NDTV that he could offer security for the band, but that it was up to them to decide whether they wanted to play. He also said that the mufti cannot be arrested for issuing a fatwa, as that did not threaten their security. "He hasn't actually threatened them, he just told them to stop," Mr Abdullah said. (
Watch what Omar Abdullah said
)
The state police has, meanwhile, begun a hunt for those who have attacked the girls online. Police sources said most of them have been identified and that they could be arrested under section 66A of the Information Techonolgy Act that penalises cyber-crime.