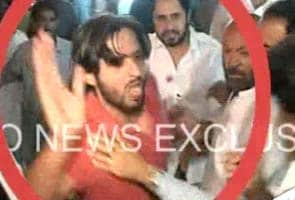 Karachi:
After winning the Asia cup, Pakistani cricketer Shahid Afridi has landed straight into a controversy. The flamboyant cricketer was caught on camera roughing up a fan at the Karachi airport soon after the team arrived from Dhaka.
TV cameras caught Afridi attacking a fan and pushing him to the ground. Afridi, dressed in a pink T-shirt, also tried to kick the fan before his brother Mushtaq got in the way and prevented the situation from getting out of hand.
The fan had apparently pestered Afridi for an autograph.
But another report said Afridi lost his temper as his little daughter, who was with him, was being was pushed around by the fans. Afridi was also seen scolding another fan and threatening to slap him before he got into a waiting car.
A large number of cricket fans had gathered to welcome their Pakistani team after winning the Asia Cup title.