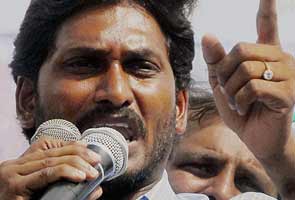 Hyderabad:
YSR Congress party chief YS Jagan Mohan Reddy today completed one year in jail in a disproportionate assets case. The Member of Parliament (MP)from Kadapa was arrested by the Central Bureau of Investigation (CBI) on this day last year.
The YSR Congress party has announced two-day protests from today, over what it calls the continued undemocratic detention of its leader.
The party plans to hold candlelight marches across the state. A rally is planned this evening at Necklace Road in Hyderabad.
Party leader Sobha Nagi Reddy believes Mr Reddy's arrest is a part of a political conspiracy hatched by the ruling Congress and main opposition Telugu Desam Party (TDP), using the Central Bureau of Investigation (CBI) as a tool to settle political scores.
However, both the Congress and TDP believe Jagan was suffering as he plundered public wealth when his father YS Rajasekhara Reddy was chief minister 2004-09.
The CBI, which has so far filed five charge sheets against Mr Reddyand others, has charged him with entering into a criminal conspiracy with his father to dole out favours to companies and individuals, who invested in his business under quid pro quo deals.
The central agency is likely to file three to four more charge sheets.
The courts refused to grant bail to Mr Reddy on many occasions in the past year. The Supreme Court, in its order early this month, said he may apply for bail after the CBI completes its investigations in four months.
Mr Reddy's political rivals accused him of running party affairs from jail. About a dozen legislators and some key leaders of both the Congress and TDP joined YSR Congress after meeting Mr Reddy in the Chachalguda Jail here during the last one year.
Though Mr Reddy's mother YS Vijayamma and sister Sharmila are trying to keep the party afloat, their biggest worry is what might happen to the party if Mr Reddy does not emerge from jail before assembly and general elections, both of which will be held next year.
TDP chief N Chandrababu Naidu believes even if Mr Reddy gets bail, he would not be able to impact the poll outcome.
"You have seen what happened in Karnataka. People are fed up with corruption. They have decided to punish the corrupt," said Mr Naidu, while predicting that the YSR Congress would meet the fate of parties launched by former Karnataka Chief Minister BS Yeddyurappa and former Karnataka minister and jailed mining baron G Janardhana Reddy.