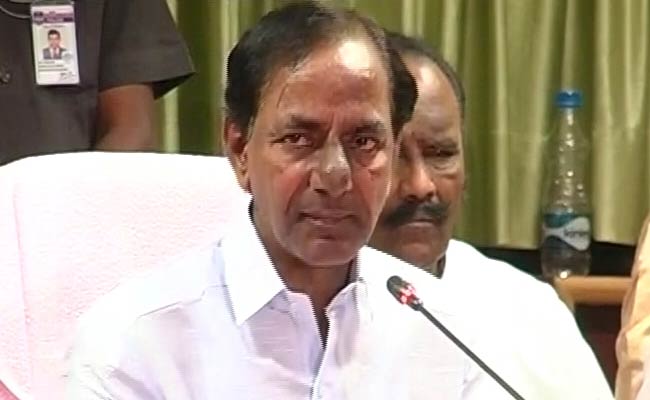 Hyderabad:
The Telangana government today said it would be constructing a new state secretariat building in Hyderabad, leaving the present building for various reasons including 'Vastu defect'.

The new complex would be built at a site in Erragadda where a state-run chest hospital, built during the Nizam era, currently stands, Telangana Chief Minister K Chandrasekhar Rao told reporters tonight after a marathon cabinet meeting here.

Telangana government presently shares the secretariat complex with the government of Andhra Pradesh.


Situated near the Hussain Sagar lake in the heart of the city, it serves as the secretariat of undivided Andhra Pradesh.
Asked why the secretariat is being shifted, Mr Rao said there are multiple factors like the idea of housing all important government offices at one location, the need to shift the chest hospital from its present location and problems with regard to 'Vastu' at the present secretariat building.
"All offices should come to one place and people should get better administration. Presently, one head of department is in Masab Tank, another is in Erramanzil...
"Secondly, definitely, this secretariat has terrible Vastu defect. It is a fact... Telangana should not suffer ... Vastu defects and history is not good. We are changing (the location of secretariat) as a combination of all these reasons," Mr Rao said.
The construction would be complete in a year, he said.
When pointed out that the chest hospital is said to be a heritage structure, Mr Rao said the rules and norms would be followed in the process.
"The issue of heritage structures has lost some of its true sense. Nowhere in the law it is said we should not touch heritage structures at all. Land is also heritage...Meaningful heritage is ok. Mindless, meaningless heritage is not ok. There are rules. We will change as per the rules. There is no problem," he said.
In another important decision, the state government has decided to continue the old students' tuition fee reimbursement scheme (following rules as per the Article 371 (D)), he said.
The government had announced its decision to introduce a scheme called 'Financial Assistance to Students of Telangana' (FAST), but it ran into rough weather, including legal issues. "FAST will not be there," he said.
The government has decided to clear the reimbursement dues to the tune of Rs 862 crore, he said.
Noting that the government would fulfil the vows made to different deities in the country made for realising the separate Telangana dream, Mr Rao said the government would offer ornaments to Lord Venkateswara at Tirupati, presiding deities at Warangal and Vijayawada and also a 'chadar' at Ajmer Sharif Dargah.
The government today also came out with guidelines with regard to regularisation of houses built by poor on the government lands.