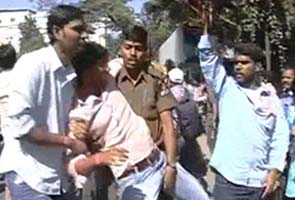 Agencies:
Amid intensified efforts by the central government to resolve the Telangana issue, the Andhra Pradesh chief secretary and police chief have been summoned to New Delhi.
Chief Secretary Minni Mathew and Director General of Police V Dinesh Reddy will meet Home Secretary RK Singh.
The development has raised hopes among pro-Telangana groups that the central government would soon announce statehood to Telangana region.
After an all-party meeting on Telangana in Delhi on December 28, Home Minister Sushilkumar Shinde had said that a decision on Telangana would be announced within a month.
The battle over the formation of a separate state of Telangana meanwhile turned in a Congress versus Congress fight in Hyderabad today, where pro and anti Telangana protesters held a series of demonstrations and meetings. Congress leaders spearheaded the protests from both sides.
At one such meeting in Hyderabad, police arrested dozens of pro-Telangana students as they tried to disrupt a meeting of leaders opposing the proposed division of Andhra Pradesh.
Students belonging to Osmania University and activists of the Telangana Jagruthi, cultural arm of the Telangana Rashtra Samithi (TRS), tried to barge into the high-security Ministers' Quarters in Banjara Hills to stop the meeting of Congress party leaders of Seemandhra (Rayalaseema and Andhra regions).
Raising slogans of 'Jai Telangana', the students said they would not allow any meeting which is aimed at stalling formation of Telangana state.
As tension mounted, police arrested the protestors and bundled them into waiting vehicles.
Later, activists, including those from Telangana Jagruthi, tried to lay siege to the Ministers' Quarters but were arrested.
The protestors, including women, said they would not tolerate attempts to stop formation of a Telangana state.
The leaders from Seemandhra, including ministers and legislators, were meeting to chalk out their future course of action amid indications that the centre will soon take a decision to bifurcate Andhra Pradesh. Seemandhra leaders will be going to Delhi on January 21. They passed a resolution stating nothing short of united Andhra Pradesh is acceptable to them.
Meanwhile, the Telangana Joint Action Committee (JAC), comprising various pro-Telangana groups, began a day-long silent protest today demanding that the Centre make an announcement for carving out separate Telangana state by January 28.
Leaders of various political parties and representatives of the groups of government employees, lawyers and journalists are participating in the silent protest at Telangana Martyrs' Memorial, Gun Park near state assembly building.