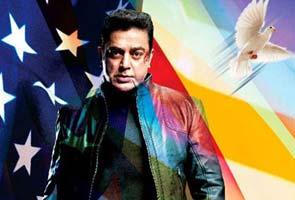 Chennai:
A day before the film finally releases in Tamil Nadu, Kamal Haasan screened his Vishwaroopam at two premieres for his friends in Kollywood, Chennai's film industry.
One of those was held exclusively for superstar Rajinikanth at his residence. Rajinikanth was one of the few actors who vocally supported Kamal Hassan right through the state's ban on his Rs-95 crore film and had even appealed to the Muslim groups who had objected to the film, to let it release. Kamal Haasan said, "Mr Rajinikanth is like my extended family and he's watching the film at his home with his family".
Other fellow actors watched the film, Kamal Hassan's most expensive and ambitious project yet, at the second premiere. Khushbu, actor and DMK leader, emerged to say, "I'm yet to come out of a daze. It exceeds Hollywood and I regret that I was not able to help Kamal Sir in the film, but I hope to make it to the film's sequel". The actor said she did not find anything in the film that portrayed Muslims in poor light - the allegation that held up the film's release. "Afghanistan was never shown so beautifully and Kamal Sir shows Muslims the right way. I'm a born Muslim and it all depends on how you look at it", Khushbu said.
Choreographer and actor Mumtaj too said, "It's a wonderful movie, great cinematography and there's nothing that shows Muslims in bad light; I'm a Muslim and the film shows what's happening". Her colleague Sarath Kumar lauded the film as "a great effort by Kamal Haasan. It was like watching an English movie; we wish him all the best." His wife and actor Radhika, who has been Kamal Haasan's heroine in many films, told NDTV "there is nothing bad about Muslims, it is an excellent movie and Kamal is the master of the game".
The film was banned for two weeks by the state government after several Muslim groups alleged that it portrayed the community in poor bad light. Though the country's censor boatd had cleared the film, the Madras High Court upheld the ban and an upset and emotional Kamal Haasan threatened to leave the country. He also shared that the film not being released in its biggest market had pushed him to borderline bankruptcy.
Finally, after six hours of hard negotiations facilitated by the state government, the actor agreed to edit audio in seven scenes.
At the premieres yesterday, a visibly relieved Kamal Haasan was emotional. He thanked his fans who stood by him steadfast. The actor said, "Fans sent me copies of their house documents to say it's mine, some sent their home keys, many sent cheques; how would I ever repay them, that's what our politics and stars are made of."
The filmmaker has lost an estimated Rs 30 to 35 crore from the two-week delay in the Tamil Nadu release of Vishwaroopam and from the attempt at a Direct to Home (DTH) premiere failing. He would now be hoping that the controversy will help set cash registers ringing.