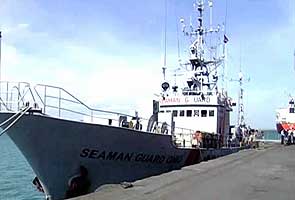 Tuticorin:
A day after taking into custody 33 crew members of a US firm-owned ship, detained in Tuticorin for allegedly carrying arms in Indian waters illegally, Tamil Nadu police today arrested remaining two persons who were left to take care of the vessel's maintenance.
Police also detained three locals, who were suspected to have illegally sold diesel to the ship 'MV Seaman Guard Ohio', owned by a private firm in US, police said.
High drama preceded the arrest of the two as ship's Chief Engineer Sedo, a Korean, allegedly attempted to commit suicide by hanging himself from the flagtmast but alert port security personnel, including Central Industrial Security Force, foiled it and rushed him to the port hospital, police said.
After doctors at the hospital declared him normal, he was arrested, police said adding they also took into custody three local persons for allegedly selling 1500 litres of diesel to the ship, detained by Coast Guard on October 12.
Thirty-three crew members of ship were arrested yesterday on charges of illegally carrying arms and ammunition and straying into Indian territorial waters without permission and remanded to 14 days judicial custody by a court. They are facing charges under the Arms Act and Essential Commodities Act.
Two crew members were permitted to stay on board to carry out maintenance of the ship and they were arrested today after alternative arrangements were made.
The Q Branch police, which took over the investigation into the case, have seized 35 arms and about 5,680 rounds of ammunition from the vessel, whose crew included 12 Indians.
The investigation by the state's specialised police wing in the last three days has revealed that the vessel was found in the country's territorial waters and was in possession of a huge quantity of arms and ammunition, without valid authorisation of documents, police said.