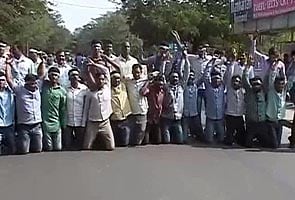 Hyderabad:
Telangana Rashtra Samithi MLA K T Rama Rao and other leaders and activists of different pro-Telangana organisations were today taken into preventive custody when they attempted to participate in the 'Samara Deeksha' protest at Indira Park in Hyderabad.
The police which had earlier denied the Telangana Joint Action Committee (T-JAC) permission to organise a 36-hour 'Samara Deeksha' at Indira Park over the statehood demand has now given permission for the same.
Earlier today, Telangana MLAs gathered in front of the Gandhi statue in Andhra Pradesh Assembly premises and were holding a dharna condemning the police for denying permission.
Tension also prevailed on the Osmania University campus when a group of pro-Telangana students pelted police with stones when they were prevented from taking out a rally in support of the protest towards Raj Bhavan. The police had to tear gas to disperse the students.
Police have made elaborate security arrangements at various places in Hyderabad and other parts of Telangana region in Andhra Pradesh as a precautionary measure.
Police has barricaded the routes toward Indira Park and diverted traffic at different places including Assembly.
T-JAC chairman M Kodandaram had yesterday urged the people of the region to converge in large numbers at the protest venue.
The Telangana activists were seeking to step up pressure on the Centre through 'Samara Deeksha' to press for a decision in favour of Telangana state.
(With PTI inputs)