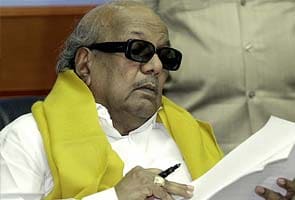 Chennai:
DMK president M Karunanidhi will today lead his partymen in a state-wide protest against the ruling AIADMK over the prevailing power crisis in Tamil Nadu.
He will lead the protest at Valluvar Kottam in Chennai, a party statement said.
Faced with a demand-supply gap of around 4,000 MW, the state government has resorted to load-shedding running upto 16 hours in many areas, to handle power shortage. However, capital Chennai witnesses powercut just for two hours daily.
Besides causing huge hardship to normal life, the crisis has crippled industry.
Both the Dravidian arch rivals - the DMK and the AIADMK - are blaming each other for the situation. The DMK is also demanding a White Paper on the issue.
The power situation is expected to improve only next year after the Kudankulam nuclear plant and a few other new power projects are likely to be commissioned.
(With PTI inputs)