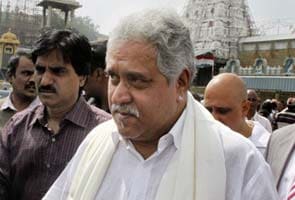 Hyderabad:
Vijay Mallya, the Chairman of the United Breweries Group, today donated 3 kg gold at the Tirupati temple.
It's Mr Mallya's 57th birthday today and he donated the gold for plating of
Bangaru Vakili
(door leading up to the sanctum sanctorum of the temple).
The deputy Executive Officer of the temple, C Ramana, said Mr Mallya personally handed over the gold to the temple and that a receipt was issued to him.
Mr Mallya tweeted today: "I am overwhelmed n humbled by ur birthday greetings n good wishes.Thank u from d bottom of my heart.Am in Tirupati.May Balaji bless us all."
Mr Mallya, one of India's richest men, had agreed to a $2.1 billion deal last month to sell a majority stake in his United Spirits Ltd to Diageo Plc.
Mr Mallya, known for his lavish lifestyle and often referred to as India's Richard Branson, has been in the news after Kingfisher, the airline promoted by him, was grounded by the aviation regulator for its failure to come up with a viable plan of financial and operational revival after a labour unrest in October led to the airline announcing a lockout.
Kingfisher, which Mallya launched with much fanfare in 2005, was once India's second-largest airline by domestic market share. For most of this year, the carrier has struggled to pay its staff, and it has not flown since early October due to protests and safety concerns.
(With inputs from Reuters)