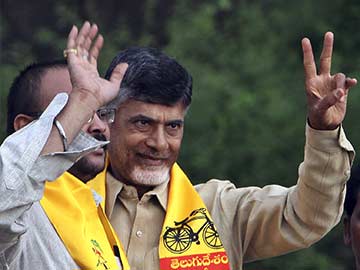 Vijayawada:
Telugu Desam Party (TDP) chief N Chandrababu Naidu was on Sunday sworn in as the first chief minister of Andhra Pradesh post its bifurcation at a function at Nagarjuna Nagar, 18 kilometres from Vijaywada.
"I will work as 'Coolie No.1' to rebuild the state into a Swarna (golden) Andhra Pradesh, a sunrise country and a knowledge hub. I will strive to make AP the No.1 state in the country with your participation and co-operation," Mr Naidu said as he dedicated TDP's victory in the elections to the Telugu people.
Governor ESL Narasimhan administered the oath of office and secrecy to Mr Naidu at 7.27 P.M., the auspicious time set for the occasion.
Several Union ministers, chief ministers and top leaders of the BJP and other NDA parties were present on the occasion. Mr Naidu took his oath in Telugu amidst thunderous cheers by party workers.
His Cabinet with 19 ministers, including three women, was also sworn in at the function. The first meeting of the Cabinet is scheduled to be held in the port city of Visakhapatnam although the date for it has not been fixed yet, Mr Naidu said.
He paid obeisance at the statue of Telugu Talli (reverential mother of Telugus) on the dais before taking oath. Braving the blistering heat, lakhs of people attended the ceremony on a sprawling 70-acre open site opposite Acharya Nagarjuna University. Union ministers Rajnath Singh, M Venkaiah Naidu, Anantha Kumar, Kalraj Mishra, Prakash Javadekar, Nirmala Sitharaman, Harsh Vardhan and Piyush Goyal attended the function.
Among the chief ministers in attendance were Parkash Singh Badal of Punjab, Manohar Parrikar of Goa, Vasundhara Raje Scindia of Rajasthan, Raman Singh of Chhattisgarh and TR Zeliang of Nagaland.
Veteran BJP leaders LK Advani, Murali Manohar Joshi, Tamil Nadu minister R Vaidyalingam, MDMK chief Vaiko, Shiv Sena chief Uddhav Thackeray, Indian National Lok Dal (INLD) leader Abhay Chautala, Akali Dal MP Naresh Gujral and a host of other dignitaries also attended the event.
Deputy Chairman of Rajya Sabha, PJ Kurien, and Punjab Deputy Chief Minister Sukhbir Singh Badal were also present.
Bollywood actor Vivek Oberoi was the star attraction at the event along with Telugu film stars Pawan Kalyan, NTR Junior and Kalyan Ram.
Art of Living guru Sri Sri Ravi Shankar, badminton great Pullela Gopichand, top industrialists like G Mallikarjuna Rao of GMR Group and a host of other VIPs, too, attended the function.
In all 19 ministers, including two from TDP's ally BJP, were sworn in tonight along with Mr Naidu. Senior legislators KE Krishna Murthy, Yanamala Ramakrishunudu, Ayyannapatrudu, Devineni Umamaheswara Rao, N China Rajappa, Palle Raghunath Reddy, Pattipati Pulla Rao and Bojjala Gopalakrishna Reddy, who remained loyal to the party through the thick and thin, were inducted into the new state's first cabinet.
Krishna Murthy and Rajappa are tipped to be designated as Deputy Chief Ministers in keeping with the election promise made by Chandrababu Naidu.
Ganta Srinivasa Rao, who served as a Cabinet member in the previous Kiran Kumar Reddy government but returned to TDP on the eve of the recent elections, was also made a minister.
Women legislators Paritala Sunita, Kimidi Mrunalini and Peethala Sujatha, too, found place in the Council of Ministers.
Educationist P Narayana, who is not a legislator yet, was also sworn in. He is expected to be soon nominated to the Andhra Pradesh Legislative Council.
BJP MLAs Kamineni Srinivas and P Manikyala Rao were also given Cabinet berths with TDP making its ally a partner in the government.
Former Union minister the late K Yerran Naidu's younger brother and three-time MLA Atchannaidu was made a minister for the first time.
First-time MLAs Ravela Kishore Babu and Kollu Ravindra also made it to the Cabinet as per the caste equations. Ravela belongs to the Scheduled Caste community while Ravindra is from a backward caste.
Of the 19 ministers, two are from the SC community while seven belong to backward castes. Barring Kadapa, all remaining districts have been given representation in the Cabinet.
Yanamala and Kamineni Srinivas were the only ministers to take oath in English; the others all took their oath in Telugu.
Get Breaking news, live coverage, and Latest News from India and around the world on NDTV.com. Catch all the Live TV action on NDTV 24x7 and NDTV India. Like us on Facebook or follow us on Twitter and Instagram for latest news and live news updates.