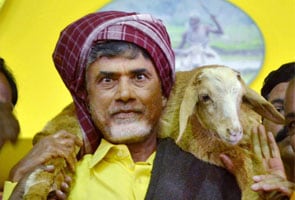 Hyderabad:
N Chandrababu Naidu, who was unanimously re-elected as president of Telugu Desam Party (TDP) for a record 19th year at the party's two-day annual conclave 'Mahanadu' in Hyderabad on Tuesday, exhorted the youth to join politics to make India a super power.
"Youths of this country are a formidable force. They can rid the country of all evils, including corruption, and make it a super power," Mr Chandrababu remarked at the valedictory session of the Mahanadu.
He announced that he would undertake a 'bus yatra' in July to go to the people as continuation of his 208-day foot march in which he toured 16 out of 23 districts in the state.
The bus yatra would cover the remaining districts.
In June, training programmes would be conducted for party workers in each Assembly constituency as preparation for the next elections, followed by "Intintiki Telugu Desam" (TDP at every doorstep) programme.
"I am confident, the TDP will return to power in the next Assembly elections (due in 2014). As a precursor, we have to win the ensuing elections to Panchayat Raj institutions and urban local bodies and keep the TDP flag flying high," he told the party rank and file.
He demanded that the state government conduct elections to local bodies without further delay and also wanted the polls conducted on party symbols.
Meanwhile, glowing tributes were paid to TDP founder-president Nandamuri Taraka Rama Rao on his 90th birth anniversary on Tuesday.
Mr Chandrababu cut a cake and celebrated the occasion with NTR's son and film star Nandamuri Balakrishna and other party leaders. He also visited a photo exhibition of NTR at the Mahanadu venue.
Earlier in the day, Mr Chandrababu and other members of NTR family, including Union Minister Daggubati Purandeswari, paid homage to the former Chief Minister at the NTR ghat near the state Secretariat.