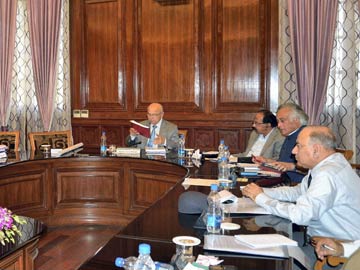 New Delhi:
The Group of Ministers (GoM), set up to look into the bifurcation of Andhra Pradesh, will meet on November 27 to finalise its report along with the draft Telangana Bill before it is submitted to the Union Cabinet expectedly next week.
The GoM, headed by Home Minister Sushil Kumar Shinde, today deliberated various issues concerning the bifurcation of Andhra Pradesh, distribution of assets between the two states as well as suggestions given by various stake holders.
"We will try to push the proposal as hard as possible. We have to discuss multiple options. We are in discussions. We will bring the Bill in the Winter Session (of Parliament)," Mr Shinde told reporters in Delhi.
The ministerial panel has expedited preparation of the final report and the Andhra Pradesh Reorganisation Bill, seeking to carve out a separate Telangana.
The GoM had held a series of meetings with leaders of eight political parties, Union ministers from Andhra Pradesh and Chief Minister N Kiran Kumar Reddy and government officials in the last one month. The stake holders had given their opinion on distribution of assets and other issues between the new state and the residuary state of Andhra Pradesh.
Sources said following an instruction from the Congress high command, the GoM has speeded up the whole process.
Once the Cabinet clears the proposal, it will go to the President who in turn will refer it to Andhra Pradesh Assembly for approval. However, the Assembly resolution is not binding under the Constitution.
The Union Cabinet then can consider the Andhra Pradesh Reorganisation Bill and after its approval, it will be sent to the President before being tabled in Parliament.
The Winter Session of Parliament commences on December 5 and will conclude on December 20.