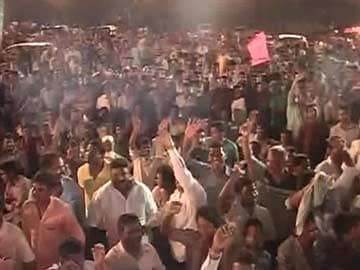 Hyderabad:
At midnight, Hyderabad celebrated the birth of Telangana, India's 29th state.
Cultural events were held to mark the golden hour in a pink Hyderabad, dressed up in the colours of the Telangana Rashtra Samiti which claims credit for the birth of Telangana after decades of struggle.
It has been rewarded with the mandate to form government.
Early morning the new chief minister K Chandrasekhar Rao will take oath of office, riding on huge hopes that are bound to become big challenges.
Ande Sri, a 53-year-old poet who has never been to school, is thrilled that his composition Jay Telangana, that he first penned nearly 12 years ago, has been chosen as the state's official song. The song has been widely used during the Telangana struggle.
"The credit for giving my song, this honour goes to the martyrs, revolutionaries of the Telangana struggle and over one crore children who have been singing this song every day in school and kept it alive," he says.
M Kodandaram, convenor of the Telangana Joint Action Committee, is overcome with emotion as he says, "This is a memorable day for all of us. We have been waiting for this day ever since our childhood. For more than 60 years, people have fought for a separate state."
Indeed for many, it has been a long cherished dream come true. Like 85-year-old N Laxminarayan Mudiraj, who as the mayor of Hyderabad 44 years ago, defied police orders to try and inaugurate a Martyrs' Memorial in honour of the over 300 people who died in police firing during a Telangana agitation in 1969.
He has come visiting again; the memorial was never formally inaugurated, but has been the venue of many a Telangana protest.
"Lots of people have sacrificed their life, then and also now, for achieving Telangana. Now the challenge for the new government of KCR is to take everyone along, so they feel they are a party to the development of Telangana," Mr Mudiraj says.