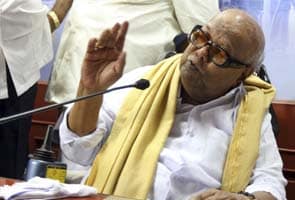 Chennai:
Amid uproar over CBI raids against his son M K Stalin, DMK Chief M Karunanidhi on Thursday gave a guarded reaction on whether the action was a political vendetta and said he can believe the central ministers statements that the raids happened without the knowledge of UPA government.
At the same time, Mr Karunanidhi, in a separate statement, said the decision to withdraw support to UPA was taken unanimously after prolonged consultations involving senior party leaders and rejected reports that Mr Stalin had insisted on the decision.
"Generally DMK is being subjected to acts of political vendetta. This may be or may not be one of such acts," the 88-year old DMK patriarch told reporters in Chennai while reaction to CBI raids against Mr Stalin.
He, however, indicated he believed that the action had been taken without the government's knowledge as claimed by central ministers.
"If the Central Minister says that the raids happened without the knowledge (of the government), I cannot say I cannot believe it," he said replying to a question.
Reacting to the raids, Mr Stalin, the DMK Treasurer, said it was 'political vendetta' as it happened two days after the party pulled out of UPA, and he was ready to face the case legally.
Fielding a volley of questions, Mr Karunanidhi said he came to know about the raids only at 10 a,. He also referred to Union Finance Minister P Chidambaram disapproving of the CBI action.
When asked whether he considered the CBI raid to be an act of political vendetta in view of DMK quitting the UPA, Mr Karunanidhi said several political leaders had criticised it and he agreed with their views.
To a question whether the raid would not be construed as political vendetta considering Congress' "track record" against estranged allies, the DMK leader said acts of political vengeance were not only confined to Delhi but also took place in Tamil Nadu, an apparent reference to land grabbing and other cases filed by state police against several DMK leaders.
On the CBI searches at Mr Stalin's residence, Telecom Minister Kapil Sibal said "somebody has played mischief" having full knowledge of the political situation.
"The point is that this is the time when a lot of churning is happening. The DMK has taken a certain position.
They have withdrawn support from the government. At this time for somebody to do this, having full knowledge of this, obviously means that somebody has played mischief," he told reporters in Chennai.