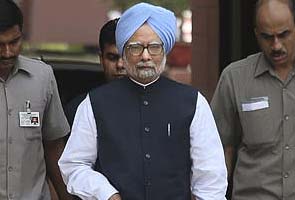 New Delhi:
Prime Minister Manmohan Singh has said that his government is "very upset" about the CBI raids on DMK leader MK Stalin's house in Chennai today. Dr Singh said, "The timing of the raid is unfortunate. The government didn't do it. We will find out who is responsible."
The raids have further strained equations between the government and the DMK, which quit the UPA two days ago in protest against the Union government's stand on the Sri Lankan Tamils issue.
The CBI was asked by the government to explain why it went ahead with the raids. In response, the CBI defended its actions and said the searches were in accordance with procedure and not intended to target any particular individual.
After the CBI's searches at his residence, Mr Stalin said the timing of the raids suggested that "the CBI action is political vendetta" and that it was linked to his party's decision to quit the UPA government.
Union ministers, firefighting the political fallout of the DMK's exit from the UPA, were quick to condemn the raids.
Finance Minister P Chidambaram said that he "strongly disapproved" of the CBI's action as it is "bound to be misunderstood."
"Normally I don't comment on the functioning of another ministry or department but I am dismayed and have conveyed it to the concerned minister" he said.
Parliamentary Affairs Minister Kamal Nath said, "I strongly disapprove of the CBI's action against Mr. Stalin. It looks targetted."
V Narayanasamy, the Minister in-charge of the CBI said, "We are inquiring into how and why the CBI went to Mr Stalin's residence. There is no case against him." Sources said Congress President Sonia Gandhi also spoke to Mr Narayanasamy and discussed the matter.
Several reports suggested that the raids at Mr Stalin's residence got over minutes after senior ministers they "strongly disapproved" the CBI's action.